Living With an Ostomy

For those of you who are in the planning phase of ostomy surgery, the fear of the unknown is high. What will I feel? How will I cope? Will everyone know? What will my body look like? How will I manage it? Will my spouse still love me? All these questions and fears are common and every ostomate has them. Having an ostomy will change some things but people live normal lives with an ostomy. In fact, some have an improvement in their quality of life. Meeting with an enterostomal nurse (ostomy nurse) before surgery can help quell some of these fears. Understanding what the changes will be, gives you time to cope with the outcomes. Education pre-operatively will give you the tools to accept, manage and live a normal life whether your stoma is temporary or permanent.
Mindset pre-operatively
Fear of needing to have surgery is normal, but add to that the thought of "having a bag!" This is the slang term for having an ostomy and most view this negatively. I often hear patients say "If I need to have a bag, I don't want surgery." For most, this is not an option. Learning about ostomies before surgery will help limit fears and anxiety. It is helpful to look at pouching systems and understand how they work. There are many options available and your stoma nurse can help you find a pouching system that works with your lifestyle or meets your needs. Seeking support prior to surgery is a good thing. People with ostomies can become patient advocates and receive special training to help new ostomates cope. These advocates can be found at most support groups, chat rooms, or on the United Ostomy Association's (UOA) website.
What to expect after Stoma Surgery?
During your hospital stay after surgery, nurses and doctors will want you out of bed and walking around. This is important as it helps stimulate the intestinal tract after surgery but also reduces your risk for blood clots in the legs. The stoma will be pouched while asleep in the operating room during surgery. The pouch will be clear as this allows the medical staff to monitor the stoma. It will be swollen at this time and the nurse will be checking the color of the stoma. The nurse will also be listening to your abdomen for bowel sounds (gurgling occurs with movement or peristalsis). They are also looking for air to pass from the stoma. Once these sounds are heard, you can start a clear liquid diet. If liquids are tolerated well and no nausea occurs, your diet will be advanced to soft, solid food. High fiber foods, raw fruits and vegetables, and seeds or nuts will not be allowed for about 2 weeks. Canned fruits and veggies are fine. This soft diet allows time for swelling from surgery to decrease and you are less likely to develop an obstruction postoperatively.
Looking at the stoma is difficult for some. The quicker you accept the stoma and decide to "take the bull by the horns" to manage it, the easier it is. You will not need to know how to change the pouching system before going home but you will need to know how to empty the pouch.
New ostomates are most commonly discharged home with nursing services to continue education in the home. This includes changing the pouching system. Learning a new routine for managing the ostomy takes time but help is available. Using all the resources open to you is a good idea. The UOA website offers a great deal of information, including support groups, chat rooms, monthly newsletters written by ostomates, and a list of ostomy nurses in your area. Manufacturers of ostomy supplies have nursing available to answer questions 24/7 via their 800 number.
Constipation or diarrhea can occur with a colostomy. Someone with chronic constipation prior to surgery can still struggle with it after colostomy surgery. Same with frequent loose bowel movements. You may still need to be on a bowel regimen of fiber and/or stool softeners, depending on your needs.
Another important fact for ostomates to understand is continued rectal discharge. The portion of the colon left in place will continue to secrete mucous. This function helps to keep the colon lubricated as waste travels through. Even though the waste is diverted, this mucous will still be produced and travel its normal route. If you feel rectal pressure, sit on the toilet and push. You may release mucous but it may also be more formed as the moisture can be re-absorbed by the body. Passing a "mucoid" stool is NORMAL. Some will do this often and others only on occasion.
Ostomy Accessories
Preventing Dehydration after Ileostomy Surgery
Managing hydration is extremely important for those with an ileostomy. Since the output is loose, drinking plenty of fluids is important, but when you drink these fluids is important as well. Here are a few tips.
Drink fluids between meals, not with your meal. This will slow the flushing of nutrients.
Foods that naturally thicken the stool without adding fiber are rice, pasta, potato, bagels and breads, pretzels, peanut butter, tapioca, cheese and yogurt, boiled milk.
Consider adding fiber supplements. I recommend using tablets or cracker form. The packaging will instruct you to take the fiber with an 8 oz glass of water, but ileostomies are using fiber differently. Take only a sip of water when taking fiber and do not drink fluids for 30 to 40 minutes. This will allow the fiber to absorb fluid in your digestive tract, therefore thickening the output.
Consider regular use of Imodium. Most people with ileostomies will take 1-2 tabs of Imodium 3-4 times a day. Deciding when and how much Imodium to take will be dependent on what your output is like. Only you can be the judge as to how much is needed.
Drinking alcohol is fine, but don't overdo it. Alcohol can cause loose stools.
If you are having a day when the stool remains watery, measure how much output you have for 24 hours. To maintain hydration, output needs be under 1500 ml per day (50 oz).
Mindset after Ostomy Surgery
Most new ostomates initially feel "disgusting" and often say "I hate this!" It's not normal to have stool in a pouch hanging on your stomach. This is one of the hardest things to get accustomed to. It is helpful to use undergarments made for ostomates. One of the most popular garments is the Wrap. It is worn around your abdomen and has a pocket in the front to hold the pouch. This puts a layer of fabric between the pouch and the skin, which helps with sweat. It offers support for the weight of the pouch as it fills. It also smooths the bulging of the pouch. Ostomy Secrets offers this product in a nice material. They offer swimsuits for men and women as well as underwear with pockets to hold the pouch.
With time, the new ostomate accepts the changes and can begin to resume a normal life. Many find support through chat rooms online or support groups found on the UOA website. Most ostomates feel the need to support others and are willing to share their stories and experiences. There are so many "tricks of the trade" that experienced ostomates can share. Some products may work for one but may not work for someone else. Eventually, you will find your routine and techniques that provide you with the most secure pouching system.
The journey of an ostomate is challenging. We are faced with the fear of the unknown, fear of the changes in our bodies, and fear of acceptance. Learning to accept these changes is the end result we strive for. Through support and encouragement, we find we are strong together. Finding the ostomy community, whether for receiving support or giving it, is rewarding. I'd like to end with words of wisdom. "Take time to smell the flowers along the way, as opposed to just the roses."
Author Profile: Christine Kijek, Registered Colorectal Nurse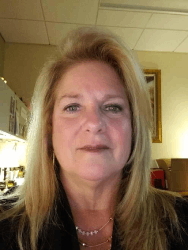 Christine Kijek is a colorectal nurse at Danbury Hospital in Danbury, CT. She has a wealth of knowledge in this field as well as personal experience. HPFY is thrilled that she has been an active participant in the Ostomy Support Group. She has experience working as a coordinator for cancer patients, post-operative care, and home health care for disabled children and adults. And guess what! Christine is also the recipient of the Nurse Exemplar Award. Christine lives in Bethel, CT with her husband Ed. Her children are married and live nearby. She has 4 grandchildren and is known as GiGi. Christine enjoys riding motorcycles and spends many hours gardening. She can often be found onboard a Carnival Cruise ship lounging by the pool.
Disclaimer: All content found on our website, including images, videos, infographics and text were created solely for informational purposes. Our content should never be used for the purpose of diagnosis or treatment of any medical conditions. Content shared on our websites is not meant to be used as a substitute for advice from a certified medical professional. Reliance on the information provided on our website as a basis for patient treatment is solely at your own risk. We urge all our customers to always consult a physician or a certified medical professional before trying or using a new medical product.