Gift ideas for babies

People often think of rattles, fot toys, or other such cliche' gift while deciding to gift something to a baby. There was a time when we did not have much options, but now we do. A number of things on the market are specifically designed to cater to the delicate needs of a baby. They are not only entertaining for the baby but also help in their physical and mental growth allowing them to understand things in a faster and easier way. Here are some ideas that can be productive, functional, affordable, and at the same time, the baby will love them.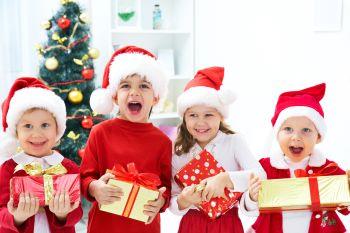 Baby Mittens

Babies often tend to scratch themselves over the face or the body. And since they haven't learnt how to control their arms yet, it is very difficult to tell them not to. This is where mittens are of great use. They protect the sensitive skin from scratches which might lead to rashes or in some rare cases, bleeding. Medline Infant Mittens are soft 100 percent cotton mittens which help to prevent infants from scratching their delicate skin. They come in assorted pastel colors - yellow, aqua, pink and blue and are fitted with a comfortable, elastic and decorative bow at the wrist. They look elegant on the baby's hands and are also highly safe in terms of their material.

Infant Heel Warmers

During the chilling winters, this is a much required gift of care to the lovely little ones. The Medline Infant Heel Warmers help increase blood flow to infants heel area, minimizing potential bruising, infection or cartilage damage caused by frequent heel sticks from blood tests. Specially designed gel pack conforms gently to the infants heel and activates instantly. Comes with lift and stick tape for easy application and removal.

Baby Oil

Frangrant essential oils are something that even adults desire. Baby Oils are designed keeping the sensitive skin of the baby in mind. They are easily absorbed by the skin and begin their work immediately. They moisturize the skin and help in preventing rashes and cuts. The high mineral and vitamin content nourishes the skin to its fullest. Using essential oils for gently massaging the baby's body has been done since the ancient times and is proven by medical science even today. It helps strengthen the limbs and also improves blood circulation. The Freshscent Baby Oil makes the skin feel fresh and smooth and also functions perfectly as a moisturizer. It can be used on all skin types.

Fuzzy Friends Stimulus Plush Toy Set And Switches Kit

Looking for gifts for babies? How can we forget toys! Check out the Fuzzy Friends Stimulus Plush Toy Set And Switches Kit which includes five different plush toys along with seven different switches. The switches included in this kit can be used to work on specific goals. Watch the animals walk, talk, and make animal sounds. Hours and hours of fun!

Rib It Ball

Whats better than a ball to give to a baby? But then a simple ball would not be such a great gift, would it? So here comes Rib-it-Ball. It is made with the highest contrasting color that is perfect for children with low vision. The unique, patented ribs on ball make it easy to grab even for the smallest of hands. Children will have hours of fun while improving balance and motor skills. It comes with a unique material within its ribs that naturally makes noise and enhances auditory awareness every time the ball is touched or thrown.

Playtex Drop-Ins Premium Nurser Baby Bottle

Along with gifts for the little ones, let's not forget the moms that gave birth to them. The Playtex Drop-Ins Premium Nurser Baby Bottle is the perfect gift that helps both mother and child as it is uniquely designed to mimic breastfeeding which makes it perfect for breastfeeding moms who also want to bottle feed. Its easy and convenient liners ensure a fresh, pre-sterilized bottle at every feeding that lets you know that the baby is taken care of. NaturaLatch silicone nipple with slow flow gives baby the right amount and reduces gas and colic.

Portable Napper

Portable nappers are a fine choice for babies that tend to be highly active at all times of the day and do not follow a schedule while napping. The portable napper can be easily stored under bed and can be set up alomst anywhere. The Skil-Care Portable Cozy Napper has portable baby crawl area and is intended for infants until they can crawl. This napper features soft barriers to limit crawl space. It is portable and easily carried to the area where the parent is working and provides a very comfortable area for Tummy Time, sleeping or for the awake infant when they are engaged in other activities.
Disclaimer: All content found on our website, including images, videos, infographics and text were created solely for informational purposes. Our content should never be used for the purpose of diagnosis or treatment of any medical conditions. Content shared on our websites is not meant to be used as a substitute for advice from a certified medical professional. Reliance on the information provided on our website as a basis for patient treatment is solely at your own risk. We urge all our customers to always consult a physician or a certified medical professional before trying or using a new medical product.
Taikhum Sadiq

Taikhum Sadiq has been a Health Products For You contributor since 2016.
He is an archaeology student and is passionate about learning about the past and how it impacts our future. He believes ...
Trending Articles
Enteral Feeding: The What, When, and How
When traditional oral intake is not feasible, enteral feeding comes into play. It supports nutritional needs of individuals recovering from an injury or surgery. Dive into this informative article and learn what, when, why, and how of enteral feeding and ensure optimal patient care.
Using the Carpal Solution Carpal Tunnel Wrist Support
Looking for a non-invasive option to manage carpal tunnel symptoms? Experience relief from constant tingling and pain with this Carpal Solution Wrist Support. Read this article to know about the unique features and benefits of this wrist support brace designed to deal with CTS and find why it is one of the most reliable wrist braces available on the market.
Top 5 Best Reviewed Nebulizers of 2023
Need an effective and affordable nebulizer? Look no further, in this article we offer 5 of our best reviewed nebulizers that are loved by our customers. Click to read more and find the perfect nebulizer for all your respiratory needs.
10 Best Overnight Adult Diapers
Worried about nighttime leaks? Say goodbye to leakage with our ten best overnight adult diapers and wake up refreshed and dry.
Five Best Cervical Traction Devices of 2023
Neck pain can wreak havoc on your otherwise healthy life. Traction device improves your cervical health and overall well-being. Read more to find our best cervical traction devices designed to curb the stiffness and discomfort of cervical muscles.