5 Best Wrist Blood Pressure Monitors for Convenient Monitoring

Wrist blood pressure monitors are devices used to measure bp levels at home. The bp wrist cuff monitor is a small device and features a large screen display. Some can even store the previous readings to track an individual's bp from various weeks. The best wrist blood pressure monitor is often chosen because it is small in size and has a digital face, which makes it convenient.
Having a blood pressure machine handy is an important aspect of checking one's health, especially after a certain age. Tracking the circulatory pressure readings helps raise the alarm when any changes surface that may need the attention of a medical professional.
How do Blood Pressure Monitors work?
The BP machine measures systolic and diastolic pressure, systolic being the top number and diastolic being the bottom. Systolic pressure is the pressure on the heart when it beats and pushes the blood through the arteries. Whereas diastolic pressure is put on the heart when it fills with blood between the heartbeats. 
The functioning of a blood pressure wrist cuff is quite intriguing. When the wrist bp cuff is inflated over the arm or wrist, it blocks the blood flow through the artery. When the cuff deflates and reaches the systolic pressure, blood flow is resumed around the artery, which creates sounds and vibrations. These sounds are created due to the blood flow being detected by the machine. Interestingly, the vibrations stop when the diastolic pressure is reached. 
How to use a Wrist Blood Pressure Cuff? 
Wrap the blood pressure cuff around the wrist. 
Place the elbow on the table or desk with the forearm bent. 
Place the wrist at the heart level. 
Let the arm be relaxed. Keep the hand resting against your chest. 
Measure the reading without moving the arm.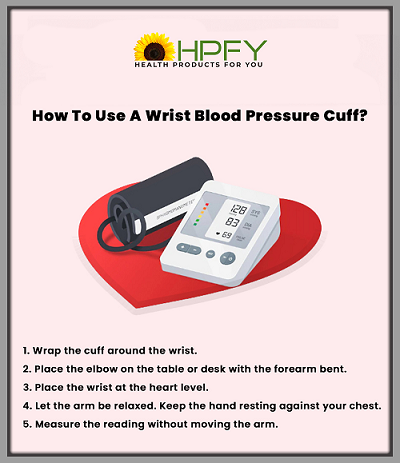 5 Best Wrist Blood Pressure Monitors 2023
Omron 7 Series is considered one of the best wrist bp monitors due to its lightweight, slim, and portable design that can store up to 90 readings for a single user or unlimited readings when used with the free "OMRON Connect App." It allows the user to keep a detailed record of the readings over time and monitor any fluctuations. The advanced averaging feature of Omron Series BP Monitor averages up to the last three readings taken within 10 minutes and detects irregular heartbeats and body movements. If the Omron Cuff Wrap Guide detects that the cuff is wrapped too loosely around your wrist, it will alert you. 
Pros

Cons

Clinically proven accurate
Battery life can be a concern
90 readings for one user
Does not have 2 user mode
Compact and lightweight
Ultrasilent inflation
HealthSmart Premium is the best wrist BP monitor that fits into one's lifestyle, whether used at home or while traveling. This machine helps with visual BP Guide and irregular heartbeat detection. Features two-user memory storage with 120 readings and works on an average of the last three readings with date and time stamps. It is also well-equipped with an irregular Heartbeat Detection system. It is battery-operated, and the wrist bp cuff is 5.3 to 8.5 inches in length. The wrist cuff offers clinically accurate results. 
Pros

Cons

Talking feature in english or spanish
Needs proper positioning for accurate results
Works for both left and right wrist efficiently
Take a little longer to get the result
Irregular heart beat indicator
Comes with a case
Blue Jay Elite is a lightweight, portable, convenient, simple, and most accurate wrist blood pressure monitor. Designed for a one-touch function, it gives accurate results detected by an oscillograph. Blue Jay comes with a chart (Hypertension Indicator) with which one can immediately get their blood pressure ratings without fussing around with a complex setup. The Blue Jay BP Wrist Cuff has an advanced and optimized measuring calibration that gives reliable and accurate readings. 
Pros

Cons

Accurate results detected by oscillograph
A bit loud
lightweight, portable, and simple to use
Batteries not included
WHO BP classification indicator
Intended for the noninvasive measurement of systolic and diastolic arterial blood pressure and pulse rate in adults, the sensor of the device catches weak fluctuation of the pressure in the wrist cuff produced by extension and contraction of the wrist artery in response to each heartbeat. 
Subsequently, the amplitude of the pressure waves is measured and converted in millimeters of the mercury column with a digital display. Consult your physician before using this device on children or persons with arrhythmia.
| Pros | Cons |
| --- | --- |
| Two (2) user with 90 memory readings | Batteries not included |
| WHO BP classification indicator | Requires careful handling |
| Includes hard storage case | sensitive to body position |
This is one of the best wrist BP monitors that automatically inflates and deflates and provides quick digital systolic-diastolic pressure and pulse rate readings. It features memory with date, time, and a color gauge for fast detection. It is a latex-free wrist BP monitor and includes two AAA batteries. Helps individuals maintain a healthy lifestyle with an easy-to-operate unit that has a large, well-lit screen that makes reading and understanding measurements stress-free. A color gauge is located on the side to detect blood pressure level range quickly. The memory holds up to 60 readings to conveniently track an individual's blood pressure over time. 
Pros

Cons

Provides quick digital readings
Less accurate than arm models
Stores 60 readings
Battery life can be a concern
Operates with the push of one buttone
FAQ's About Blood Pressure Monitoring at home
Which is more important - the Systolic or Diastolic blood pressure reading?

Typically, more attention is given to systolic blood pressure (the first number) as a major risk factor for cardiovascular disease for people over 50. Systolic pressure rises steadily with age due to the increasing stiffness of large arteries, long-term buildup of plaque, and an increased incidence of cardiac and vascular disease. If the measurement reads 120 systolic and 80 diastolic, you would say, "120 over 80," or write, "120/80 mmHg." Both readings are important. The systolic reading indicates the bp during the heart contraction, and the Diastolic reading indicates the blood pressure when the heart rests between contractions.

Where can I buy the best wrist blood pressure monitor? 

Since 2002, Health Products For You has been your partner in health and wellness. We are a customer-centric health and medical supplies e-commerce website that offers a wide range of medical supplies and more, including the best wrist blood pressure monitor to keep your health in check. Place your order today and stand a chance of getting great discounts on all purchases you make. It is important to consider that blood pressure readings can change throughout the day depending on the activities performed all day. If the bp is consistently read as high, the chances of developing serious heart conditions such as heart attack, cardiovascular ailments, or stroke escalate greatly. It is advised to consult a doctor if extremely high or lowered blood pressure is recorded for a long period.  

Why should I monitor my blood pressure at home?

According to the American Heart Association, people with or at risk of high or low bp condition must regularly monitor their blood pressure. Going to the hospital for every bp reading can be cumbersome. Therefore, for the sake of convenience and comfort, many people prefer using blood pressure monitors at home to check their BP.

How often do I need to measure my blood pressure?

Medical experts suggest measuring bp twice a day. The first measurement should be in the morning before exercising, eating, or taking medication. Refrain from measuring your bp right after waking up. The second bp reading must be in the evening; for accuracy, consider noting 1-3 readings in one go.
Related Articles
Disclaimer: All content found on our website, including images, videos, infographics and text were created solely for informational purposes. Our content should never be used for the purpose of diagnosis or treatment of any medical conditions. Content shared on our websites is not meant to be used as a substitute for advice from a certified medical professional. Reliance on the information provided on our website as a basis for patient treatment is solely at your own risk. We urge all our customers to always consult a physician or a certified medical professional before trying or using a new medical product.