Dressing With an Ostomy

Figuring out what to wear with a new ostomy can be a challenge. A big factor is stoma placement. For stomas below the waistline, dressing is a little less of a challenge. A stoma above the waistline requires more attention.   
Initially, after surgery, your belly will be distended and tender. Most are wearing loose, lounging-type clothes for the first few weeks. As the swelling resolves, you will likely find you have lost a little weight. The average weight loss with major surgery is about 10 lbs. Your body is working overtime and utilizing calories for healing. After 3-4 weeks, you will settle and gain the weight back.   
Don't discard clothing in your closet right away. Give yourself time to heal and feel comfortable with your new ostomy. You may find many clothes you have can be modified to work with your ostomy.  
Visibility  
This is the number one concern of every ostomate. Remember, looking down at your abdomen, you will see the ostomy pouch bulge, but those looking at you see things from a very different angle. Here are a few tips:  
Wearing dark colors will help conceal the pouch bulge. Dark clothing is slimming  
Patterns will make the pouch less noticeable, like camouflage   
Loose shirts or T-shirts do not fit snugly on the belly   
High-waisted slacks/pants/shorts/skirts draw attention to above the stoma 
Pleated trousers/slacks offer more room for the pouch to fill. 
Empty the pouch as needed (when 1/3 to ½ full). If wearing tight-fitting clothing, empty more frequently 
A-line dresses or dresses that fit on top but flare at the waist are a good option 
Wear flowy, longer blouses/tops  
Ostomy-specific swimwear - these have pockets inside to support your pouch  
Undergarments for Ostomates
What you choose to wear underneath your clothes can help minimize the pouch and offer support. As the pouch fills, the weight can cause pulling, giving a feeling of insecurity.
The pocket on the inside supports the weight of a filling pouch
One size smaller keeps the pouch tight to your body, allowing you to wear tighter-fitting clothing (for that special occasion.)
This is a great choice for those with an ostomy in the upper abdomen

Underwear- made specifically for ostomates  

These have a pocket inside to hold the pouch, offering support and minimizing the bulge.  

Both men's and women's underwear are available from a few companies  
Best for those with stomas below the waistline  
Stealth Belt- a great choice for men and women  
It can be used for stomas above the waistline or below  
A stealth belt offers a side wear pouch support or vertical support  
Spanx/maternity bands/high-waisted underwear or bandeaus are not made specifically for ostomies but can be used for support or slimming purposes 
Ostomy Protection  
Protective garments are available for those at risk of injuring the stoma or having parastomal hernias.   
Stoma guard  
Used for covering and protecting the stoma from injury  

It also offers a layer between the stoma and the waistband of your slacks or belt line. Your pants can sit at the level of the stoma without interrupting the flow of output 
You can wear a shirt tucked into your pants, allowing the pouch to be partially covered under the pants  

Ostomy Armor  
Stoma Dome  
Ostomy Wraps  

This garment is for both men and women 
Again, it supports the weight of the pouch as it fills while minimizing the bulge of the pouch. 
It can be worn if your stoma sits below the waist, allowing coverage if wearing low-rise pants. 
Works great if your stoma is above the waist and there is concern the pouch will hang below your shirt  
Available in black, white, tan, gray  

Stealth belt  

Also, unisex   
Available for vertical (down) wear of the pouch or horizontal (side) wear of the pouch.  
Perfect for low or mid-rise pants 
Clothing for Men  
High waisted trousers  

Intended to keep the pouch below the waistline  

Pleated trousers  

Offers more room below the beltline for a pouch while filling  

Casual clothing
Loose fitting pants/shorts/sweats

Untucked shirts  
Less worry about concealing the pouch

Sweaters in the cooler months offer more concealment  
Jeans  

Don't wear tight-fitting jeans  
Consider stretch denim  
I am Denim jeans- made in the UK, great for ostomates and post-op abdomens  
Built-in support for the upper abdomen  
Perfect jeans for the stoma in the upper abdomen  

Formal wear  

Look for high-waisted slacks  
Pleated trousers  
Elastic waist slacks/expandable waist  
Consider suspenders rather than a belt   
Suit jackets offer concealment  
If you are fitted for a suit, be sure the tailor understands your needs.  
If your stoma is above the waist, use a stoma guard  
Clothing for Women 
Underwear
Consider ostomy-specific underwear for stomas below the waist. They have a pocket for supporting the pouch.

Many options and colors  
High-waisted  
Does not restrict flow or output  
Briefs, boy shorts, thongs, lacey or everyday wear  
Suggestions for men's wear apply to the ladies as well 
Let's talk about dresses!   
Slim fitting  
Look for rouching or gathering at the midsection. This will help conceal the pouch. 
Spanx  
Stoma guard  
Flowy casual dresses  
Can be fitted in the upper section but flowy from the waist down  
Consider patterns rather than solid colors  
Accessorize with a flowy vest or jacket  
Consider maternity dresses (you may need to hem the front)  
Jumpers are loose fitting, great for winter months  
You can wear leggings underneath   
Tops  
Again, flowy  
Consider wearing a tight-fitting tank or camisole underneath  
For those with a stoma above the waist, consider Spanx or a wrap  
Midriff tops (those that show the ABD), Great for those with stomas below the waist.  
Consider high-waisted pants  
Pants/Jeans/Shorts  
If you like low rise waist, use a wrap or stealth belt  
Consider a pouch cover  
Elastic waist  
Leggings are great for support  
Maternity pants  
Accessorize  
Long bold necklaces bring the eye up  
Long scarves are worn to hang in the middle of the abdomen  
Jackets/vests   
Avoid belts around the waist  
Dressing with an ostomy is something ostomates must learn. You can be stylish and unique in what you wear and how you use your wardrobe without spending a lot of money.  
Ultimately, it is about what works for you and keeps you comfortable.   
Sources of Information: Vegan Ostomy
Author Profile: Christine Kijek, Registered Colorectal Nurse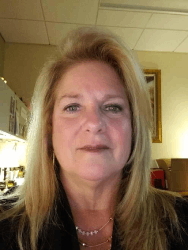 Christine Kijek is a colorectal nurse at Danbury Hospital in Danbury, CT. She has a wealth of knowledge in this field as well as personal experience. HPFY is thrilled that she has been an active participant in the Ostomy Support Group. She has experience working as a coordinator for cancer patients, post-operative care, and home health care for disabled children and adults. And guess what! Christine is also the recipient of the Nurse Exemplar Award. Christine lives in Bethel, CT with her husband Ed. Her children are married and live nearby. She has 4 grandchildren and is known as GiGi. Christine enjoys riding motorcycles and spends many hours gardening. She can often be found onboard a Carnival Cruise ship lounging by the pool.
Disclaimer: All content found on our website, including images, videos, infographics, and text were created solely for informational purposes. Our reviewed content should never be used for the purpose of diagnosis or treatment of any medical conditions. Content shared on our websites is not meant to be used as a substitute for advice from a certified medical professional. Reliance on the information provided on our website as a basis for patient treatment is solely at your own risk. We urge all our customers to always consult a physician or a certified medical professional before trying or using a new medical product.