Pets are very common in houses around the world. The need for an animal companion has been prevalent for years and now has gain a lot of prominence. Animals such as dogs, cats, rabbits, guinea pigs, mice, and a number of birds are some of the most common animals that are kept as pets around the world. Out of all these animals, dogs are the most common pets. They are said to be a man's best friend and are one of the most loyal animals in the world.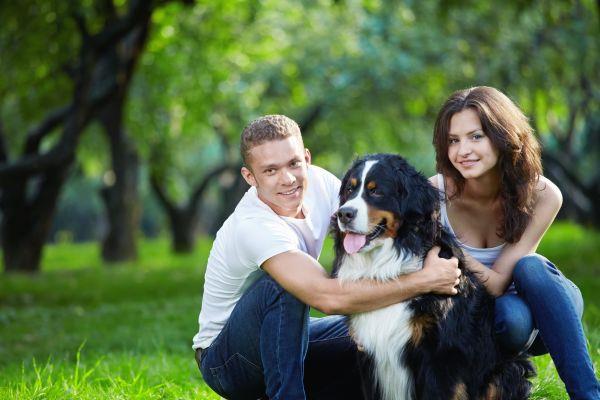 Nutrition for Canines
Pets have always been considered as a part of the family just as if they are sons or daughters of the family. As every family member needs food to sustain them, so do the animals. Nutrition is a key factor while taking care of your dogs. Different animals have different nutritional requirements. In fact, different species of dogs also have different nutritional requirements. Dogs are larger animals and hence require a heavy carnivorous diet to live a healthy life. One has to take special care in what to feed the dog as the wrong food can cause a lot of problems for them. For example dogs shouldn't be fed things like chocolate as caffeine is proven to be toxic to dogs. Usually, those who keep dogs have a basic knowledge on what to not feed the dog. But sometimes unaware as to what is the most beneficial to the animal.
What are the essential nutrients?
Just like humans, dogs need some of the most essential nutrients too. Minerals, carbohydrates, vitamins, fats, and proteins are the most important. Pets also need a lot of water through out the day and many species tend to take a part of the water supply from their food itself so always remember to give them the appropriate foods. Proteins usually come from the meat they eat and so supplementaries can be avoided. Fats that come from chicken, lamb, and herring, help the dogs a lot. Dogs are basically carnivorous animals and so can digest raw meat but it is difficult for them to digest raw grain and so grain should be cooked before feeding them. Grains gives them carbohydrates. Unlike humans, dogs can make vitamin C on their own and hence require a good intake of vitamins on a daily basis. Foods like milk, bread, fish, etc provide all the necessary vitamins.
Are packaged pet foods good enough?
Packaged foods are specially made in regulated quantities so that a day's portion of food includes all the necessary nutrients and no extra food is required. They include meat, grain, as well as a good quantity of dairy products. Packaged foods are better if you do not have the time to make something from raw ingredients at home, or do not want to risk adding something that might affect the health of your dog.
What are my options?
Choosing the right food for your dog starts with identifying what your dog likes best. Like humans, dogs also do have likes and dislikes. Some dogs love red meat while some would prefer having white meat. Some have an affinity to raw milk while some might detest even the slightest of dairy products. Chewing treats are also a nice snack for dogs that like to keeping munching throughout the day. Chewing treats tend to be slow to be chewed on and provide long lasting high quality eating entertainment to the dog.
Chewing treats are also a nice snack for dogs that like to keeping munching throughout the day. Chewing treats tend to be slow to be chewed on and provide long lasting high quality eating entertainment to the dog.
Dogs rely on their olfactory senses to a huge extent and also choose foods that smell in a specific way. Choosing foods that smell like meat can also help making the dog eat the food that gives them nutrition. Beef, chicken, or lamb flavored dog treats are a healthy treat for dogs. They contain nutrients that increase mobility and decrease chances of diseases. Their smell makes sure the dog loves the food as well.
Good and healthy meat is a great options for breeds like German Shepherds, Pitbulls, Dobermans, etc. They provide all the necessary protein and fat that the dog needs. Chicken or beef jerky fillets are a natural high protein treat that dogs will love. Made from real meat they give the power packed nutritional punch the food needs.
Making Sure The Canine Is Healthy
Dogs are highly socially adaptable animals and can adapt to your environment very easily. There are many factors like climate, air, water, etc that can affect the dog. For example a husky is a breed that lives in the Polar Regions and is acclimatised to cold weather. It cannot live properly in regions around the equator. On the other hand a Labrador is a dog which is used to mild climates and hence cannot tolerate extreme weathers. Knowing what climatic conditions the breeds are accustomed to helps a person understand the various problems that might affect the dog and thus take appropriate steps to prevent any health issues and treat them as well.
What are the problems that affect dogs?
Hot Spots - Hot spots are injuries that are caused by allergies, insect, flea, or mite bites, poor grooming, and constant licking or chewing. They are very painful for the dog and can spread very fast. The most common reason for hot spots is bacteria. If the injury is not taken care of in time it can deteriorate or worsen and cause a lot of problems for the dog. Using a topical anti-bacterial cream or ointment can help eliminate the bacteria and also soothe the wound. One should choose a cream that is not only soothing but also doesn't affect the coat of the animal. Some breeds have allergies to some chemicals and ingredients and hence consult a vet before using a cream on the wounds.
Mites and Ticks - Mites and ticks are small insect like creatures that live of the blood of mammals. They are one of the major problems that affect dogs as they get into the fur of the dog and draw out blood from the skin. They create a small wound that then extends and can cause infections. They can easily be removed by pulling them out but this might cause a bit of pain for the dog and sometimes might aggravate the wound. Using anti-flea or anti-insect sprays or powders can help in treating this problem. The sprays act directly on the tick causing the tick to loosen its grip. The tick can then be slowly pulled out using a pair of tongs or if it is big in size, it might fall off on its own. Some anti-insect sprays also help in preventing any mites or ticks from attaching themselves on the body of the dog.
Itchiness - Once the mites and ticks are removed, dogs experience itching on the wounds, to prevent the formation of hot spots in these areas, special anti itching creams and sprays can be applied. The soothing formula of these creams directly acts on the itchy and irritated skin. They are usually made from herbal ingredients that sooth the skin and reduce inflammation.
Temperature Issues - Sometimes, the temperature of a specific region may not be suitable or a specific breed and hence cooling or heating pads and beds are recommended for such situations. They provide a regulated surface for the dog to rest and hence take care of the temperature issues. You can use them at home and also carry them around with you in a car or in the park. The provide the optimum temperature required for the dog.
Taking The Canines for a Walk
Dogs are animals that need fresh air at least twice in the day. It is mandatory for one to take their dog out in the open in parks or playgrounds for a walk so that they can exercise and rejuvenate themselves. Even travelling with you dog can be a very easy task as technology as created some amazing things that can protect your dog in windy as well as sunny days.
Many dogs have sensitive skin, and hence the direct sunlight can affect their health. It can cause blisters as well as burns that might be painful for the dog. Dogs that have a lot of fur tend to trap heat within their fur causing the base temperature of the skin to increase and result in blisters or rashes. Sunscreens are non-toxic, non-oily, non-irritating formulations that prevent sunburn.
Many people prefer to take their dogs out while they travel, but taking a dog out on a bike is a difficult task. Technology has developed special harnesses that can be used to secure your dog, while you take them out for a ride. Biker harnesses have heavy duty stitching, VELCRO® brand closures and metal hardware make these harnesses fashionable and functional. Some are softer in construction and are made for smaller dogs. Each dog has different strengths and one should choose the harness or dress that is best in sync with the body structure of the dog.
These tips can help you take care of your dog in the best way possible. They take care of their three most basic necessities, food, health, and satisfaction. Ensuring that your dog stays fit and healthy at all times makes you a perfect caretaker of one of the most beautiful animals in the world.
Disclaimer: All content found on our website, including images, videos, infographics and text were created solely for informational purposes. Our content should never be used for the purpose of diagnosis or treatment of any medical conditions. Content shared on our websites is not meant to be used as a substitute for advice from a certified medical professional. Reliance on the information provided on our website as a basis for patient treatment is solely at your own risk. We urge all our customers to always consult a physician or a certified medical professional before trying or using a new medical product.