All About Turf Toe

What is turf toe?
The metatarsophalangeal joint is the joint that connects the foot to the toes. Injury to the connective tissues in this joint near the big toe is called turf toe. The injury is generally the result of excessive upward bending of the big toe joint. This condition can be caused from either by jamming the toe, or repetitive injury when pushing off repeatedly when running or jumping.
What are the symptoms?
Pain, swelling, and limited joint movement at the base of one big toe are some of the major symptoms off this condition. Symptoms develop slowly and gradually and worsen over time if it's caused by repetitive injury. If it's caused by a sudden forceful motion, the injury can be painful immediately and worsen within 24 hours. Sometimes when the injury occurs, a "pop" can be felt. Usually the entire joint is involved, and toe movement is limited.
What are the causes?
The condition is named after injuries sustained by sportsperson playing on artificial turfs. It is mostly associated with American Football players. When weight falls on the back of the leg while the foot is touching the ground, the toe gets hyper extended and the toe gets injured. This injury can also occur with footballers, tennis players, and taekwondo players who play on artificial turfs.
What are the treatment options?
One should take complete rest during this injury and should abstain for playing any sport as it could aggravate the injury. Exercises recommended by your doctor might help you a lot. Orthotic devices such as splints and bands can aid in the healing process and also serve as a medium of hot and cold therapy.
What are my options?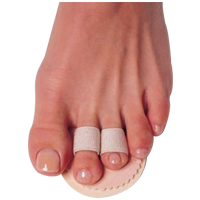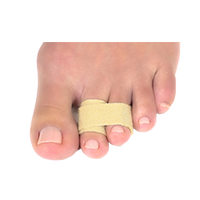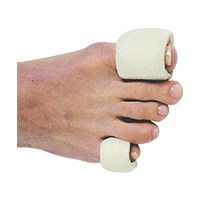 PediFix Toe Straightener provides adjustable alignment control. The soft, cotton-elastic band keeps toes in their proper position with gentle, constant pressure. It encourages hammer toes to 'flex' to help postpone rigidity. The soft elastic loops guide crooked, deformed toes into proper position while dual-layer foam padding cushions and protects the ball-of-foot.
3pp Toe Loops are soft and fully cushioned that secure two toes together to stabilize fractures, correct flexible hammertoes, and realign overlapping or crooked toes. They have unique cushioning and grip of foam-lined material to protect callused toes and relieve pain caused by shoes rubbing on bent hammer toes.
Pedifix Tubular Foam Toe Bandage surround, cushion, and protect toes to relieve irritations. These soft, foam tubes instantly cushion and separate toes that rub while reducing pressure and friction. Relieve corns, ingrown nails and other irritations comfortably while wearing almost any type of footwear. Trimmable and are made from fabric-lined foam, these are easily cut and shaped into toe protectors, nail guards, bunion shields and more. Foam compresses for a comfortable shoe fit and are washable and reusable.
Disclaimer: All content found on our website, including images, videos, infographics and text were created solely for informational purposes. Our content should never be used for the purpose of diagnosis or treatment of any medical conditions. Content shared on our websites is not meant to be used as a substitute for advice from a certified medical professional. Reliance on the information provided on our website as a basis for patient treatment is solely at your own risk. We urge all our customers to always consult a physician or a certified medical professional before trying or using a new medical product.