How important is my knee?
Medically speaking, the knee is made of three bones, the lower femur, the shinbone, and the knee cap. It is the largest joint in the body and is a vital part of mobility. The three bones are connected to each other by ligaments that are again divided into different types. These ligaments support the movement of the knee and give flexibility to the joint. The knee can sustain a lot of weight and develops completely when one reaches adolescence. The knee is the first to be affected by old age. The knee moves only in one direction but sometimes some factors can lead to the knee moving in the other direction too.
What are the problems associated to the knee?
There are tow categories of problems associated with the knee.
Joint and muscle injuries – The first major problem is ligament injuries. These include combined ligament injuries and collateral ligament injuries. Combined ligament injuries are the ones that affect both collateral ligaments and cruciate ligaments. The ligaments can get inflamed and can cause a lot of pain. Other problems include fractures, dislocation of the knee which refers to the removal of the femur or the shinbone from their sockets, anterior cruciate ligament tear, posterior cruciate ligament tear, and tendon tears. Patellar fractures or the braking of the knee cap is another major joint injury. It refers to the vertical, horizontal, or complete breaking of the knee cap.
Knee conditions – The Osgood-Schlatter condition is one of the most common ones among adolescent people. It refers to pain in the tendon that connects the patella to the shinbone. It gets inflamed and results in a lot of pain. Another problem that affects adolescent people is adolescent anterior knee pain. It takes place in the patellar tendon and is different from the Osgood-Schlatter condition.
Who is affected by these problems?
Knee problems usually affect old people or adolescent people. Old people go through these problems as the cartilage in the knee wears down and the bones become weaker. On the other hand adolescent people suffer as their knee has recently developed completely and thus are vulnerable to a lot of problems. Excessive strain on the knee can result in strains and ligament injuries. Fractures can be caused by accidents and also sudden jerks due to a hard object hitting the knee.
What are my treatment options?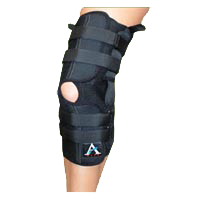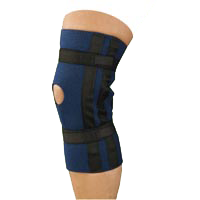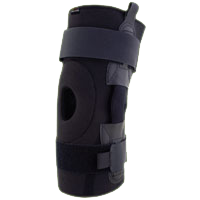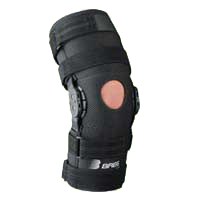 Treatment options usually include surgery for intensive injuries and basic rehabilitation and medication for minor injuries. Fractures are healed using casts and ligament injuries are usually cured by using medications and taking excessive rest. Wraps, braces, and supports are something that is very effective in helping the treatment process. They support the knee and the muscles and help in reducing pain.
What are my options?
ALPS Coolfit Extended Knee Brace with Hinge is constructed of Coolfit breathable fabric. The brace is designed to prevent or reduce the severity of knee injury. Works well for patients who are allergic to neoprene knee braces. It is available in Pull-on and wrap-around style. This knee brace is manufactured longer in length than standard brace.
AT Surgical Neoprene Pull-on-12 Open Patella Unisex Knee Brace with Spirals provides good multi-directional support over the soft tissues of the knee joint. The design of the brace allows the flexible support stays to provide medial-lateral stability to the knee while maintaining its proper position at all times.
BodySport Compression Airmesh Dual Pivot Popliteal Open Hinged Knee Brace provides support and compression for injured knees and helps speed recovery time. Ideal for sprains, ligament strains, hyperextension and chronic knee instability. Three-dimensional and four-way stretching, high-compression construction airmesh fabric keeps user dry and comfortable.
Breg Roadrunner Neoprene Knee Brace provides superior control and support for ligament injuries and instabilities and may be used for post-op treatment and mild OA. The adjustable R.O.M. (Range of Motion) design features polycentric adjustable hinges to control extension from 10 degree to 40 degree in 10 degree increments (10 degree installed) and flexion control from 45 degree to 90 degree in 15 degree increments.
Disclaimer: All content found on our website, including images, videos, infographics and text were created solely for informational purposes. Our content should never be used for the purpose of diagnosis or treatment of any medical conditions. Content shared on our websites is not meant to be used as a substitute for advice from a certified medical professional. Reliance on the information provided on our website as a basis for patient treatment is solely at your own risk. We urge all our customers to always consult a physician or a certified medical professional before trying or using a new medical product.