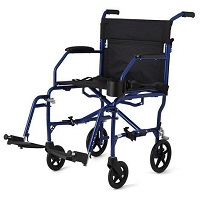 Medline Ultralight Transport Chair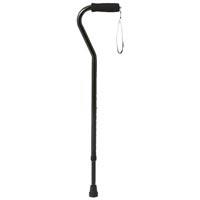 Adjustable Aluminum Cane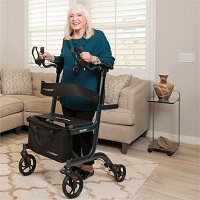 UPWalker Lite Walking Aid
If you have trouble walking due to age, illness, an accident, or surgery, a walking aid can help you move around safely without needing to rely on others. Mobility aids provide support and stability, help improve your balance and gait, and reduce the risk of falls. Common issues that require walking aids typically include the following: 
old age 
injuries involving lower limbs or back 
an accident that has affected your walking 
surgery or illness recovery 
joint or muscle pain 
walking impairment due to brain injury or stroke 
visual impairments  
At HPFY, you will find high-quality walking aids for adults and pediatric patients that include canes, crutches, walkers, upright walkers, knee walkers, rollators, etc., that will make you independent and self-sufficient and help you lead a fulfilling life. 
Types of Mobility Aids 
There are many types of walking assistive devices and aids available, but the requirement depends on the mobility issue or injury. The most common types of walking aids include:  
Canes 
Crutches 
Standard walker 
Knee walker  
Upright walker 
Rollator 
Canes, also known as walking sticks, are aluminum or wooden sticks with a rubber tip and a round or contoured handle. This type of mobility aid creates another point of contact with the ground, making the user more stable. These can be useful when one leg is weaker (or injured) than the other or the user requires a little assistance with maintaining balance.  
Several kinds of canes are available, and depending on your condition, you might choose a single-point or multi-point cane. Quad canes with four tips offer greater stability and reduce the risk of falls. 
A walking cane is a good option for you if: 
You can still walk but have a weaker side, a minor injury, or mild balance issues. 
You have the good upper-body strength 
You need to navigate small spaces and rough terrain. 
You want to stay active and mobile as much as possible. 
Crutches aid in walking by providing a sturdy base of support. They help transfer the weight from the legs to the upper body and are often used by people after an injury to one of their legs, such as a sprained ankle, knee injury, or even a broken bone. They allow the user to be mobile without putting any weight on the injured leg.  
Normally these are utilized in pairs, but if your doctor has you in a walking boot for a foot or ankle injury, it may be possible that you could only use one crutch to make sure you are stable while walking so you don't reinjure that foot or ankle.  
Crutches can be the right walking aid for you if: 
you have good upper body strength and good coordination to use them. Not suitable for the elderly. 
you have a temporary non-weight-bearing order from your doctor after a big injury. 
you do not have enough space to maneuver a larger device like rollators or walkers
If a cane does not provide sufficient stability, the next piece of walking aid may be a walker. A standard walker is an open frame with four legs contacting the ground and needs to be lifted and advanced. A walker for seniors requires a certain amount of hand strength to operate safely. 
Another type of mobility walker is a knee walker, designed for people with mobility issues due to below-the-knee injuries. The knee scooter has an elevated platform where the patient can rest his injured limb. 
Another revolutionary walking aid is an upright walker. An upright walker is a 4-wheeled walker with forearm supports and grips that allow users to walk in an upright posture with better balance. 
A medical walker is ideal for you if: 
you mostly need assistance with balance but still have good upper and lower body strength. It could also be a good choice if you need to walk over flat surfaces. 
A rollator, also called a rolling walker, looks like a standard walker except that it rolls forward on three or four wheels and does not need to be picked up and placed down. This makes them a popular mobility solution for older adults who lack the upper body strength to lift a device. 
Most wheeled walkers come with a padded seat where you can sit down and rest and a carry basket for shopping bags. Before using a rollator, It is important to learn how to stop it with the handbrakes and avoid steep slopes that could pose a significant safety hazard. 
A rolling walker can be helpful mobility aid for you if:  
you do not have the adequate hand strength to lift a standard walker but still want to remain active and independent. 
the areas you walk are mostly flat 
You get outdoors often 
Walking Aid benefits 
Mobility aids offer immense benefits, including: 
Improve balance and stability 
Decrease fatigue 
Boost confidence and self-esteem 
Enhance the quality of life 
Increase the ability to access the community 
Improve physical activity and walking ability 
Increase independence  
Reduce load on lower limbs 
Where to buy Mobility Aids online? 
Mobility aids for walking can help you to live independently as you age or when your usual activity level is compromised due to an illness, injury, or surgery.  
Health Products For You is your one-stop shop for all your mobility needs, including older adults and pediatric aids for mobility. Here you will find walking aids from top-selling manufacturers like Medline Industries, Drive Medical, Nova-Ortho Medical, etc., at the best prices. Shop now and regain your mobility and independence! 
When choosing a walking aid, consult with a medical professional or an occupational therapist to know what suits best for your condition and how to use the device safely. 
Articles and Research papers on Mobility Aids for Walking