Compression Aids: All You Need To Know

Compression therapy includes major items like stockings, socks, sleeves, gloves, and gauntlets. But these products have other compatriots too that not only increase the effectiveness of the item but also increase the ease with which they can be used. They are known as Stockings and Sock Aids.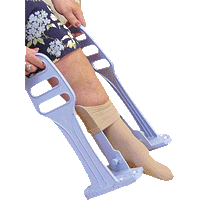 Sock aids help an individual in wearing the socks without having to bend down or raising the legs. Others include donning and doffing devices that help put on and remove hosiery in the easiest possible ways. There are heel guides for people who have a problem with placing the leg in the proper position. These guides position the leg perfectly for the stocking or sock to be worn.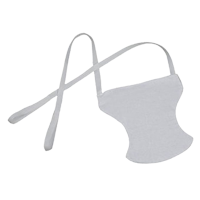 For example the Mabis DMI Deluxe Sock Aid with Terry Cloth Cover helps pull on socks and stockings without bending over or raising leg. It is ideal for people who have a limited range of motion or are recovering from hip, knee or back surgeries. The Terry cloth cover helps prevent sock from slipping.
In heels guides, the Maddak Heel Guide Compression Stocking Aid is an easiest way to put on compression hosiery. It's unique, indented channel on the inside of center cone acts as a heel guide and keeps the foot in perfect position. The extra wide cone is ideal for people with edema or larger feet. The sturdy handles reduce the need for bending or stretching over.
The Sock and Stocking Aid helps in wearing socks or stockings. It simply draws socks and stockings over the flexible plastic core of this aid. For additional help in reaching the socks, attach them to the garters on the aid and then insert the foot. The E. C. I. C. Sock-eez Compression Sock Removal Aid is a unique and trouble-free hosiery and sock remover that is designed for anyone experiencing the difficulty of removing compression hosiery or socks. Great for the pregnant women, elderly, disabled, post-operative, injured, incapacitated and those with chronic back problems. It eliminates the need to bend over.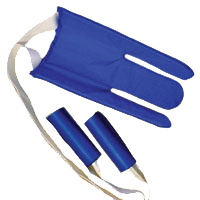 The Kinsman Deluxe Terry Covered Sock Aid has foam handles which provides a large diameter surface for those with limited grasp due to arthritis. It is lined with nylon fabric on the inside that allows the foot to slide into the sock. Terry cloth outer cover provides a nonslip resistance to the sock which helps prevent the sock from slipping off the sock aid before its snug. One-handed use is possible with this sock aid.
For those who need help putting on pantyhose, the Maddak Ezy Sock Helper assists in putting socks, compression or regular stockings, and panty hose. This sturdy helper is made of steel with smooth plastic coatings. It is designed to help the caregiver to place socks on a patient, client or family member.
Related Articles
Disclaimer: All content found on our website, including images, videos, infographics and text were created solely for informational purposes. Our content should never be used for the purpose of diagnosis or treatment of any medical conditions. Content shared on our websites is not meant to be used as a substitute for advice from a certified medical professional. Reliance on the information provided on our website as a basis for patient treatment is solely at your own risk. We urge all our customers to always consult a physician or a certified medical professional before trying or using a new medical product.