Healthy Canines

Pets are very common in houses around the world. The need for an animal companion has been on for years and now has gain a lot of prominence. Animals such as dogs, cats, rabbits, guinea pigs, mice, and a number of birds are some of the most common animals that are kept as pets around the world. Out of all these animals, dogs are the most common pets. They are said to be a man's best friend. They are one of the most loyal animals in the world.
Pets have always been considered as a part of the family and are sons and daughters of the family. As every family member needs food to sustain them, so do the animals. Nutrition is a key factor while taking care of your dogs. Different animals have different nutritional requirements. In fact, different species of dogs also have different nutritional requirements.
Dogs are larger animals and hence require a heavy carnivorous diet to live a healthy life. One has to take special care in what to feed the dog as the wrong food can cause a lot of problems for them. For example dogs shouldn't be fed things like chocolate as some of the ingredients of chocolate are toxic to dogs. Usually those who keep dogs have a basic knowledge on what to not feed the dog. But are clueless as in to what is the most beneficial to the animal.
What are the essential nutrients?
Just like humans, dogs need some of the most essential nutrients too. Minerals, carbohydrates, vitamins, fats, and proteins are the most important. Pets also need a lot of water through out the day and many species tend to take a part of the water supply from their food itself so always remember to give them the appropriate foods. Proteins usually come from the meat they eat and so supplementaries can be avoided. Fats that come from chicken, lamb, and herring, help the dogs a lot. Dogs are basically carnivorous animals and so can digest raw meat but it is difficult for them to digest raw grain and so grain should be cooked before feeding. The grain gives them carbohydrates. Unlike humans, dogs can make vitamin C on their own and hence require a good intake of vitamins on a daily basis. Foods like milk, bread, fish, etc provide all the necessary vitamins.
Are packaged pet foods good enough?
Packaged foods are specially made in regulated quantities so that a day's portion of food includes all the necessary nutrients and no extra food is required. They include meat, grain, as well as a good quantity of dairy products.
What are my options?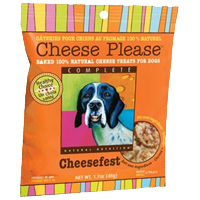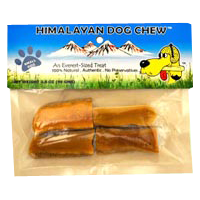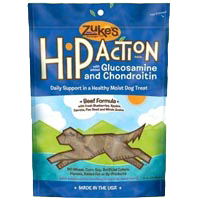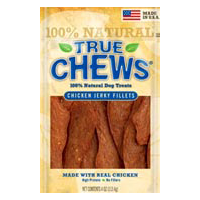 The Complete Natural Nutrition Cheese Please is the healthiest and most wholesome way for dogs to enjoy pure cheese. It starts with real Wisconsin cheese that is produced with low salt and 99% lactose free and then crumbled and baked. The result is mini crunchy-nuggets full of 100% natural goodness with only 3 calories per nugget. It is an ideal treat for training or spoiling your dog.
Himalayan Dog Chew Dog Treat is an authentic type of cheese which is very hard to chew and provide long lasting high quality eating entertainment to the dog. It comes from an ancient recipe of the people of the Himalayas, in the mountains at more than 15,000 feet, and is made using traditional methods with Yak and Cow milk. This is 100% natural with no preservatives.
Zukes Hip Action Beef Flavored Dog Treat is a natural relief to sore, achy hips and joints in a healthy treat. It contains 300 milligram of glucosamine and 250 milligram of chondroitin and essential co-factor vitamins, minerals and amino acids which increases mobility and decreases pain. It is packed into a delicious easy-to-feed bite size treat with no slimy pills or messy powders.
True Chews Chicken Jerky Fillets For Dogs are all natural, high protein treats that dogs will love. These American-made real chicken jerky fillets are rawhide-free and contain no fillers. They are naturally delicious dog treats you can feel good about giving.
Disclaimer: All content found on our website, including images, videos, infographics and text were created solely for informational purposes. Our content should never be used for the purpose of diagnosis or treatment of any medical conditions. Content shared on our websites is not meant to be used as a substitute for advice from a certified medical professional. Reliance on the information provided on our website as a basis for patient treatment is solely at your own risk. We urge all our customers to always consult a physician or a certified medical professional before trying or using a new medical product.