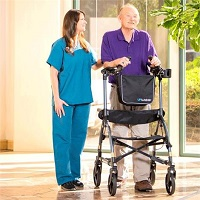 UPWalker Walking Aid
Lowest Priced Adult Walker
ProBasics Economy Two Button Steel Walker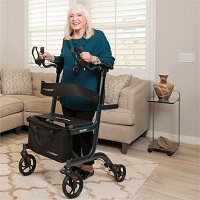 UPWalker Lite Walking Aid
Older adults and people with limited lower body strength struggle to move around independently.  
What is an adult walker?
A walker is a mobility aid designed for people who can still walk yet need additional support to maintain balance. It offers more support than a walking cane because they have more contact points with the ground and provide support on both sides of the body. 
HPFY offers a wide range of walkers for seniors and those with low mobility so they can independently perform their daily activities.  
When to use a walker? 
An adult walker is ideal for you when you: 
Types of walkers for adults
It has four legs with rubber tips and a top rail with two foam handgrips. It is designed for support, stability, and balance. It may not be ideal for long distances and outdoor use as you have to pick them up to move. However, If you move at a slower pace or need something to support much of your weight, the standard walker is your best bet. Standard walkers are available in different models -
It is a standard walker with two front wheels. Because it is not lifted off the ground with each step, the wheeled walker facilitates a more normal walking pattern. The combination of front wheels and the back legs makes it easier to maneuver on uneven surfaces inside or outdoors. It is a great choice for those who do not require as much support but are not strong enough to use rollators. 
It is designed for people with no strength in one arm. It is lighter than a standard walker, more stable than a quad cane, and folds easily with one hand. Hemi walker is ideal for stroke recovery. 
It is designed for those with weight-bearing issues in one leg due to injury or surgery. The knee walker has an elevated padded platform to rest the knee and provide continuous support for the injured limb. The user can walk with one leg while the other sits on a support platform.  
It allows the user to stand upright and push the walker around rather than slumping to hold it. The upright walkers for seniors improve users' posture, take the pressure off the wrists, back, knees, and ankle, and help users walk in a safe, secure, and supported way. 
Choosing the right walker for adults
Here are the things to keep in mind while selecting adult walkers:  
1. Height 
Choose a walker with the correct height to make proper use of it. Having a too-low or too-high walker can put you at risk of injury. Luckily, most walkers are height adjustable. 
2. Width 
Buy an adult walker that can pass through your home's doors, hallways, and other spaces you visit regularly. It is important to take measurements before purchase. 
3. Weight Capacity  
Make sure to check the specifications section to see the weight capacity of the product. Most walkers for adults feature up to 300 lb weight capacity. Bariatric walkers are designed with extra wide sturdy aluminum frames with a weight capacity of up to 500 lbs.  
4. Foldability 
If you are an active user or need space management, you can also check out folding walkers. These will fold to fit near-bed when not in use and easily put in the trunk of cars. 
5. Seat  
A seated walker is always beneficial, especially for elders who cannot stand long. 
6. Wheels  
If the individual cannot carry the walker's weight, having wheels on the walker is the best option. 
7. Accessories 
Accessories for Walkers such as baskets, trays, hand grips, wheels, flashlights, and glide tips are available that can enhance comfort, convenience, and accessibility.  
How to walk with an adult walker  
To properly use a walker, you first need to understand how to stand in one. Make sure you note and practice the following points to ensure the proper use of a walker – 
Step inside the walker and check your wrist height and elbow bend - while keeping the shoulders and arms relaxed and the back straight, the walker's grip shall align with the creases of your palm, and the elbow should be at a 15-degree angle. 
Do not stand too far or too close to the walker. For the first step, move the walker half-a-step ahead and step ahead with the weaker leg first. 
Put your other leg slightly ahead of the injured leg for the next step. 
Repeat the above steps until you're familiar with them, and you can gradually increase the length of your steps. 
Please keep your back straight and never lean in or out of the walker, as it may be fatal. 
Using it on stairs 
Place the walker sideways so the crossbar will be next to you. 
Place the walker's two forward legs on the step above you. 
Hold the railing with one hand and your walker with the other.
Carry your weight equally between the railing and the walker.
Step up with a healthy leg.
Next, lift your weaker leg. 
Now shift the walker onto the next pedestal and repeat the above steps.
Where to buy a Walker for Adults Online?
Health Products For You, you will find a large catalog of mobility walkers from leading manufacturers like Kaye Products, Medline Industries, Graham-Field Health Products, etc. We also carry a full line of walker accessories to enhance your experience. Place your order today! 
Our Best Sellers