Pari Adult Aerosol Mask
Allied Aerosol Mask
Medline Nebulizer Mask and Tubing
What is a nebulizer mask?
Nebulizer treatment requires assembling different parts of nebulizers together. One such part is a breathing treatment mask known as a nebulizer mask. A nebulizing mask lets the person receive the medicated mist without the need to cup the lips around a mouthpiece all the time, which is a tiring job. Masks offer a greater comfort level and let the receiver relax during the treatment. HPFY offers a wide range of masks for nebulizers for all age groups, including older adults who cannot cup their lips around the mouthpiece to receive medication. We also encapsulate in our range nebulizer masks for kids that come in fun animal and cartoon themes that usually calm the resistant child to take treatment. These masks are designed for children who experience difficulty in taking treatments via mouthpieces. Pediatric masks come in designs like dragon masks, dog masks, and many other fun designs.
Why choose a nebulizer face mask?
Effective - Masks are considered effective as they focus the medicated mist on both the mouth and the nose, and you need not use your lips in the process to seal the medication inside. 
Less Wastage - Since all the medicines go inside the body of the person receiving the treatment, zero to no wastage of important medicine happens.
Available for All - Mask for nebulizer machines come in all sizes to suit all age groups. Moreover, these nebulizing masks are fabricated with smooth, feathered edges for increased comfort. 
Soft Material - The soft material of the breathing mask prevents skin breakdown.
Great fit - Masks are molded according to the shape of the nose and contour the face to offer a great fit.
Efficient - Since nebulizer masks allow patients to inhale the aerosol mist via both the nose and mouth, they are also helpful in treating the passageways along with the lungs. The Vinyl neb masks are cost-effective and usually connected with tubing in the front to deliver medication.
When should you use a mask for nebulizer?
A nebulizer mask is a medical device used to deliver medication directly to a patient's lungs in the form of a mist. Here are some situations when a nebulizer face mask may be used:
It can be used to treat asthma attacks or manage chronic asthma symptoms. The medication delivered through the breathing treatment mask helps to open up the airways, making it easier to breathe
It can be used to manage symptoms of COPD, such as shortness of breath, coughing, and wheezing
These masks are often used to deliver medication to individuals with cystic fibrosis, a genetic disorder that affects the lungs and digestive system.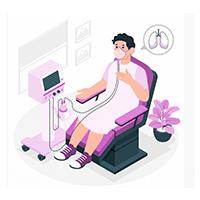 Place the compressor near the power source within your reach.
Before starting the treatment, sanitize your hands thoroughly.
Measure the correct dose of medication as prescribed by your doctor and add it to the nebulizer.
Connect air tubing from the compressor to the base of the nebulizer. 
Make sure all connections are snug.
Attach a nebulizer.
Turn on the compressor and check the nebulizer for misting.
Wear the mask and start inhaling the mist in deep, steady breaths.
Health Products For You has effective nebulizer masks and tubings like the Respironics Sami the Seal Children Mask for Sidestream Plus Nebulizer or the Salter Aerosol Therapy Mask, and many more from top brands like Respironics, Salter, Drive, Cardinal Health, etc., at best prices on HPFY.
How to clean a mask and nebulizer?
Nebulizers need proper maintenance and cleaning to ensure germs or other bacteria do not grow inside the machine. The use of a contaminated breathing machine or nebulizer accessories can lead to lung infections. 
Use only distilled water to clean your face mask and other nebulizing supplies. This prevents bacterial growth and increases the lifetime of your equipment.
Refrain from placing the mask or other nebulizer equipment in boiling water (even though some nebulizer parts are widely cleaned in this manner) because the type of plastic used to make the masks cannot endure the heat and will lose its shape.
Do not share your mask!
Sharing a breathing machine mask increases the chances of infections and the growth of harmful bacteria.
Nebulizer Mask FAQs
1. Do I need a prescription for a nebulizer mask?
Yes, a nebulizer and its medicine need a prescription from a doctor or any other medical professional.
2. Can you inhale a nebulizer through the nose?
Begin breathing through your mouth rather than your nose. Make sure to take normal breaths. (Children who use a face mask nebulizer can breathe through their nose as well as their mouth.)
3. Does a nebulizer help clear mucus?
It helps reduce the thickness of phlegm, so it's easier to cough it out.
4. What nebulizer supplies do you need?
You will require the following nebulizing supplies to use a nebulizer-
Air compressor.
Hand-held nebulizer.
A mouthpiece or face mask.
5. How long do you inhale through a nebulizer?
Place the mixture in the nebulizer cup.
Connect your breathing machine to the face mask or mouthpiece.
Breathe in the medicine for about 5 to 15 minutes or until the drug in the nebulizer cup is exhausted.
6. How do you breathe with a nebulizer face mask?
Put the mask over your face.
Turn on your compressor.
Hold the nebulizer upright to avoid spilling and ensure adequate distribution of medicines.
7. How often should you change a nebulizer face mask?
Disposable neb masks must be thrown out after 5 to 7 uses, whereas regular adult and pediatric neb masks are fit for up to 6 months.
Where to buy nebulizer masks online?
At HPFY, you will find various types of Nebulizer Masks from top brands like Respironics, Salter, Drive, Cardinal Health, etc., at the best prices.
Nebulizer Mask Research Papers