Chronic sinusitis is a disease of the nasal passage where the nasal cavity remains swollen (inflamed) for a long time period (2-3 months) despite treatment attempts. These attacks may be caused due to cold weather, certain allergies, fungus and weak immunity. The treatment depends upon the type of factor that caused it. Chronic sinusitis can also be a result of nasal polyps, or deviated nasal septum. Chronic Rhinosinusitisis is a condition that interferes with nasal drainage due to mucus buildup. This condition makes breathing through the nose difficult and results in swollen eyes and nose along with tenderness or pain in the face.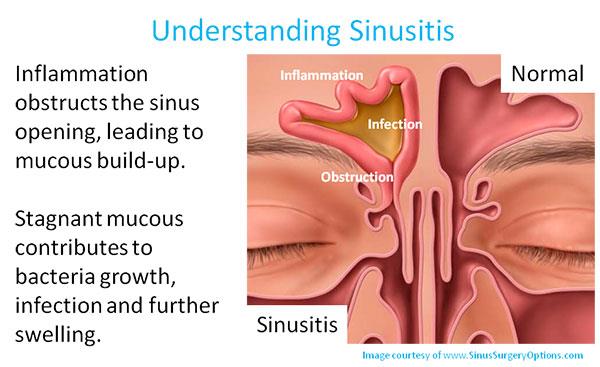 Symptoms of Chronic Sinusitis:
Discolored, thick discharge from the nose or back of the throat
Nasal congestion
Breathing difficulties
Swollen eyes and nasal region
Pain and tenderness in the face
Smell and taste senses are reduced
Ear pain
Aches in upper jaw and teeth
Severe cough at night
Sore throat
Bad breath
Fatigue
Irritability
Nausea
Treatment Options for Chronic Sinusitis:
Nasal irrigation, saline sprays and solutions helps in opening up the nasal passage and helps in removing allergens. At HPFY we bring to you a wide range of products to help you with your condition. Consider buying Church & Dwight Simply Saline Sterile Nasal Mist for clearing out nasal passages, Bluechip Hospital Patient Allergy Proof Pillow to keep allergens away while sleeping, Honeywell Easy Care Cool Mist Filter Free Humidifier for prevent dryness and irritation of nasal passages and lungs, Austin Air HM205 Babys Breath Air Purifier for clearing out pollutants and allergens from air or the Amrita Aromatherapy Niaouli Essential Oil that works great for nasal problems like sinusitis. Buy products at best prices at attractive discounts on each purchase.