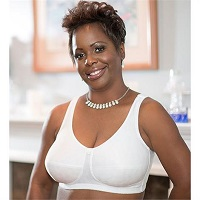 ABC Rose Contour Bra
Classique Bra Extenders
Trulife Active Flow Swim Form
The post mastectomy period can be challenging without the right breast care products. Once the recovery process is over, the first question usually is where to buy post mastectomy bras, breast prostheses and the likes. But it is important that life after mastectomy is planned in advance. Choose your mastectomy wardrobe before the surgery to save your time and energy for later. Our post mastectomy collection is elegant and comfortable and can help restore your confidence. These products are designed by experts in the industry with the widest choice in prostheses, pocketed mastectomy bras and swimwear, breast forms, mastectomy breast enhancers, mastectomy gowns and camisoles, mastectomy and other post-mastectomy breast care accessories. Get a pick from our top-selling manufacturers like Anita International, Nearly Me, Trulife, American Breast Care, Amoena, Classique and many more.
Types of Mastectomy Products
Breast cancer mastectomy bras or pocketed bras are designed for women who have had partial or entire breast removal surgery because of breast cancer. It could be the removal of one breast or both breasts. We offer a huge online selection of all types of post mastectomy bras from top brands. These are high quality products for breast cancer patients required post-surgery. The hidden built-in pocketed shelf bras give you the security you need. You can choose post mastectomy supplies from Nearly Me, American Breast Care, Anita, Amoena, Wear Ease, Trulife and many more. Beautiful and functional lingerie, they are designed to be extremely comfortable, stylish and fashionable.
Types of Post Mastectomy Bras
Mastectomy bras in lace
Bras with front closure
Sports/activity mastectomy bras
Compression bras
Underwired mastectomy bras
Camisole-type mastectomy bras

There are multiple choices in color and size. They are ideal for all types of use – leisure wear and while sleeping. The fabric used is soft and gentle on the tender areas of the skin. Supportive and lightweight, our collection is designed to provide a lovely fit and is great for all types of budget.
Breast forms also provide the much-needed confidence required during this period. They can be slipped into the bra or swimsuit to add to your sense of well-being. Available in different shapes, sizes, colors and styles.
Types of Post Mastectomy Breast Forms
Silicone breast forms
Non-silicone/lightweight breast forms
Swim/exercise breast forms
Dark tone breast forms
Foam/fiberfill breast forms
Cooler breast forms
Leisure breast forms
Attachable breast forms
Shapes vary from triangular breast forms, teardrop breast forms, oval breast forms to heart-shaped breast forms. Popular brands available here include ABC, Amoena, Trulife and many more.
Breast enhancers are developed to give the lift and rounded appearance needed for a natural look without being noticeable under regular garment. They are weightless, comfortable and made to suit all post-mastectomy or lumpectomy requirements. Place a breast enhancer into a shelf bra or swimsuit for natural breast enhancement. The design gives a push to the bust line for a defined breast shape offering the feel and movement of natural breasts.
Breast binders provide stability to breast implants and prevent risk of hematomas. Made of soft, breathable stretch fabric, our post-mastectomy breast binders may also be used during postpartum nursing, for holding nursing pads in place or to suppress lactation.
Swim suits and swim breast forms are important items in a post-mastectomy woman's wardrobe. The swim breast forms are created to be waterproof and safe from chlorine or salt water. They retain their shape even in the water. The post mastectomy swimsuits are designed to hold the breast form securely and discreetly in place. In delicate designs and colors, these items are made of high quality fabric. Some of the biggest manufacturers are featured here like Anita International, Nearly Me, Trulife, American Breast Care, Amoena and Classique.
Post-mastectomy gowns and camisoles allow women to continue looking stylish and elegant. Made by Amoena, Estetica Designs, LuisaLuisa, Still You, etc. these mastectomy wear provide discreet support while maintaining a fashionable style. The post-surgery drain management camisoles securely hold removable drain pouches. They can be worn alone or under clothing for an ideal fit.
Post mastectomy T-shirts and pajamas with built-in pocketed bras or shelf bras are comfortable and relaxing. There are t-shirts with sewn-in foam cups and adjustable bra straps as well as garments with pocketed shelf bra for prosthesis or natural breast. Also available are compression capris and compression shorts to provide relief from lymphedema swelling.
To meet all your mastectomy accessories need, there are breast form covers, strap extenders and cushions, bra pockets, underwire pads, bra supports, removable bra cups, nipples and adhesives. Chemotherapy hair loss can be overcome with our fine collection of wigs and hairpieces. We carry a whole range of good quality and perfectly-fitting wigs from established wig designer Estetica Designs. These are available in several hair styles and colors and offer a look that is both natural and beautiful.

Other Useful Links: