InnoSpire Nebulizer Carrying Case
Carefusion AirLife Trach Tee Adapter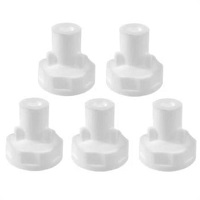 Devilbliss Replacement Air Inlet Filter
HPFY encompasses a range of accessories that would be of use for people who are prescribed the nebulizing treatment. What is better than getting it all under one single roof? We provide you with replacement filters, carry begs, batteries etc. that you can use with your nebulizer for a complete nebulizing experience. We also have nebulizer parts and accessories like the Aerosol Drainage Bag, Adaptor, and Nebulizer Heater. Buy high quality products from top brands like Drive, Respironics, Devilbliss etc. and avail attractive discounts. Browse our extensive range today!
Types of Nebulizer Accessories
Nebulizer Filters
Filters are an important part of the nebulizer machine. It clogs the bacteria and impurities from getting into the system and only lets the clean air pass through it. With time it may become dirty and cause blockage. It should be replaced then otherwise it interferes with the operation of the nebulizer system reducing its life. You must check the filter regularly without failing regardless of the manufacturer's warranty claims. If the filter is dirty you should change it. Also Nebulizer filters are unique for each nebulizer system, you must read the full instructions for replacement beforehand. Buy nebulizer filter replacement for popular nebulizers like Power Neb & Pacifica Elite from Drive, InnoSpire Filters for InnoSpire from Respironics, or PulmoNeb LT, Pulmoneb Pulmo-Aide & Devilbliss Air Filter from Devilbliss and many more.
Carry Bags
Nebulizer bags provide a handy solution to carry your portable nebulizer systems wherever you go. These bags are compact in size and are sized according to the nebulizer model. Popular carry bags include the Respironics Innospire Bag and many more.
Nebulizer Batteries Pack
HPFY also carries replacement batteries for popular nebulizer systems that can save your day while on the go. A spare set of batteries can make you go a long way with you nebulizer system. Browse our range and get your pick today!
Power Adapter
Tabletop nebulizers need to be power plugged in order to function. Power adapter provides flexibility when the users are out of batteries for the Portable Nebulizers.
Nebulizer Mask
The Nebulizer mask delivers medication directly to the airways. It fits over the mouth and nose. Nebulizer treatments require a mask or mouthpiece. Masks come in different sizes and Varients. Easily available in Low Prices.
How do you set up and use a Nebulizer system?
Wash your hands well.
Connect the Tubing to air compressor.
Fill the medicine cup with prescribed medication. Always hold mouthpiece straight up and down and close the medicine cup tightly to avoid spills.
Attach the tube and mouthpiece to the medication cup.
Place the mouthpiece in your mouth. Keep your lips firm around the mouthpiece so all of the medication goes into your lungs.
Breathe through your mouth till all the medication is employed. This takes 10 to 15 minutes. If needed, use a nose clip so you breathe only through your mouth.
Turn off the machine when done.
Wash the medicine cup and mouthpiece with water and air dry at least once a week
Nebulizer Accessories FAQs:
1. How often should you change the nebulizer mouthpiece?
ALL nebulizer kits should be replaced at least every six months. If less than six months old and reusable, boil the cup and mouthpiece, ensuring that any obstacle or build-up has been removed. After washing, try using your system as usual.
2. How often should nebulizer filters be changed?
Check your Nebulizer filter at least once a month. Monthly replacement of felt filters, such as the NE-C25 filter, is recommended. Hard filters, such as the PARI long-lasting air filter, should be examined and replaced at least once a month (usually every six months to 1 year).
3. How long should you use a Nebulizer?
The Nebulizer is recommended to be used for not more than 10-15 minutes a day. The patient should sit and breathe in through a connected mouthpiece, and medicine goes into the lungs and take slow, deep breathing for a couple of minutes. A nebulizer turns liquid medicine into a mist which travels up to your lungs quicker.
Where to buy Nebulizer Replacement Parts online?
HPFY carries a wide range of Nebulizer parts such as nebulizer filters, carry bags, and nebulizer batteries from well-known manufacturer like Drive Medical, McKesson, and Respironics.
Articles and Research Papers