Exfoliate with sugar body scrub & olive oil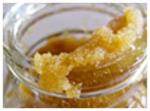 Exfoliating is important in warmer months. Your body sheds skin cells at an amazing rate every minute of every day. If you don't exfoliate, your skin can look dull and dry, no matter how much moisturizing lotion you use. Mix a small amount of olive oil with ½ teaspoon of sugar. Apply to
the face and body, being careful not
to exfoliate under the eyes, and then
rinse off.