Frequently Asked Questions On Prevail
Prevail briefs are designed for extended wear and particularly during the night because of their highly absorbent core. They provide leakage protection for up to 12 hours at a stretch. Overnight extended use briefs have hypoallergenic fabric with aloe, chamomile and vitamin E which ensure the skin stays sanitized and healthy despite prolonged exposure to fluid. There are breathable zones and side panels which allow air to flow in keeping the skin dry and reducing heat build-up. The Odor Guard technology employed in Prevail products helps prevent odors by reducing the total ammonia that is formed within the brief. There is minimum skin irritation despite the long hours of wear because of the brief's soft, breathable, cloth-like outer fabric which is more comfortable when compared to the usual plastic-backed incontinence products.
Prevail product range has a long line-up of pads and pantiliners that are designed to manage stress incontinence. Involuntary urine loss in the form of leakage and dribble can be handled well with Prevail bladder control pads, male guards and pantiliners which are super absorbent, discreet and offer reliable protection. Their Dri-Fit cotton enhanced technology promotes healthy skin while the thinner absorbent cores allow free movement without worries of leakage. Prevail products incorporate the MaxSoft technology which quickly wicks away moisture from the skin keeping it soft, dry and healthy.
LOBC, or loss of bladder control, is a condition that affects millions worldwide and more specifically, 25 million Americans each year. LOBC can be mild or severe and may go untreated in the person's lifetime if not too bothersome. In fact, 2 out of 3 of the sufferers are found to not use any product or treatment to manage incontinence. Most incontinence sufferers manage with lifestyle changes such as a correct diet and exercise. But incontinence products have been found to help people with incontinence live their day-to-day life actively and comfortably without worrying about leakages, embarrassments, etc.
Prevail has products that target its female buyers covering their range of needs. For that light bladder control involving dribbles and leakage, there are bladder control pads and pantiliners. For women who experience moderate involuntary flow because of stress and urge incontinence, there are protective underwear with customized design involving targeted protection for the female anatomy. Bladder control pads with strong absorbency power can also be used. Women experiencing heavy flow because of reflex, overflow and functional incontinence need to try out the Prevail briefs which can be worn as regular undergarments and have extra absorbency rate. Someone looking for nighttime protection may check out the extended wear briefs which provide up to 12-hour leakage protection. For extra peace of mind, underpads may be spread over a chair or bed to protect furniture from accidental leakages.
Men may suffer from incontinence less than women but equally need adequate protection. Prevail products for men suffering light incontinence include male guards which can be worn inside the undergarment and is shaped to fit around the male anatomy comfortably. If extra protection is required then the male guard can be worn inside an underwear for secure fit. For moderate incontinence, Prevail protective underwear for men are available which provide targeted protection for the male anatomy. Heavy leakage issues can be handled well with Prevail products that are high absorbency and provide complete protection. There are briefs designed to be worn like an underwear and there are extended wear briefs that are ideal for prolonged usage, especially during the night, going up to 12 hours. Male incontinence sufferers may also use underpads which are spread on the furniture to prevent them from being soiled by accidental leakage.
Choosing the correct size when buying a Prevail brief is important to ensure a right fit and no leakage. If the sizing is based on an approximation, then the product is bound to be uncomfortable, lead to embarrassing accidents and not serve the purpose for which it was purchased. Size estimation will involve height and weight of the user. Here's a Prevail brief sizing chart: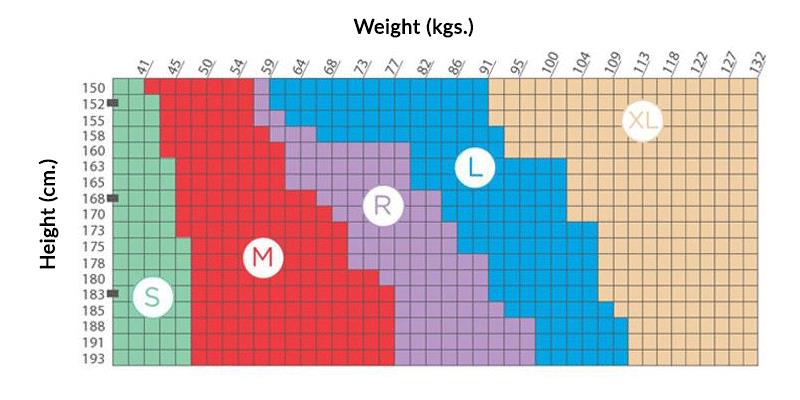 Skin irritation and infections are the result of moisture entrapped in the underwear. The longer the garment is kept on, the greater the risks. But Prevail takes care of this concern through its MaxSoft technology which features a Quick Wick layer to quickly get rid of any moisture on the skin, leaving it dry. This rapid liquid acquisition provides softness and comfort. Also, the fabric used has an increased number of funnels to create a more permeable film.
Which Prevail product to buy will require a thorough understanding of your condition and needs. There are briefs, protective underwear and underpads for light, moderate and heavy incontinence and for overnight, extended use. Base your purchase on the style of the Prevail product that you know will provide you utmost comfort in all areas. Check out the product selection guide: ss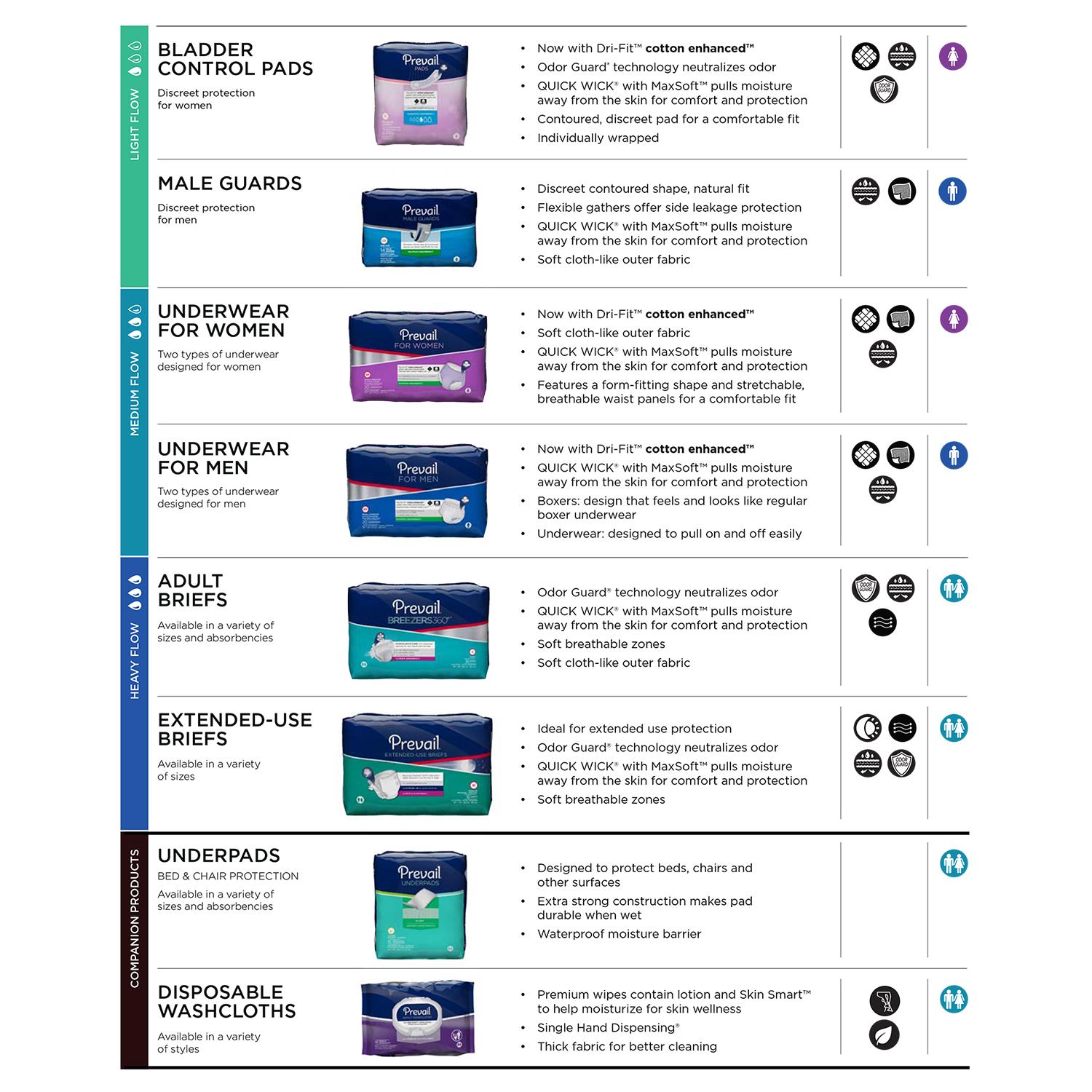 The Skin Smart fabric used for Prevail products promotes skin integrity by keeping the skin comfortably dry. The material used has vitamin E and natural botanicals like aloe and chamomile which have a soothing effect on the skin keeping it soft and healthy. The thin absorbent cores of a Prevail product offer discretion and comfort. Wearer can move around freely without feeling inhibited by the bulk because of the sleek design.
Prevail's Odor Guard technology provides superior odor control ensuring the odor-causing ammonia produced within the garment is reduced and the smell rid of as soon as it is formed. A super absorbent polymer is used for protection from any odor formed during and after use.