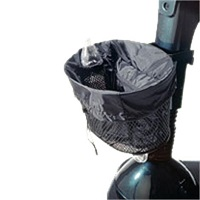 EZ-Access Scooter Basket Liner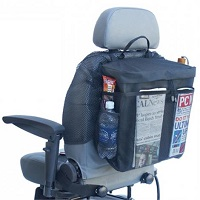 EZ-Access Spacious Pack
Electric foldable scooters for adults have been developed to provide independence to persons with restricted mobility. Elderly people and those with disabilities find it a convenient mode of transport. They are equipped with minimum functionalities so using these products is easy. Mobility scooters provide a comfortable and reliable approach to personal mobility offering a smart balance of style, performance, and value. 
HPFY understands the value of independence in older age and brings a vast range of electric mobility scooters for adults, including 3-wheel and 4-wheel mobility scooters. These mobility scooters can make a meaningful difference in the lives of older adults who may otherwise be unable to leave home. We have electric adult scooters with cutting-edge technology offering enhanced maneuverability, relaxed seating, adequate foot space, and a smooth ride.
Types of Mobility Scooters for Adults
All 3-wheel, 4-wheel, and folding power scooters we offer are designed to be ergonomically enhanced and equipped with all features required for a smooth ride both indoors and outdoors. Individuals with limited strength and dexterity can easily handle these mobility scooters.
How to Choose the Best Mobility Scooter?
There are several types of electric mobility scooters for adults so which one to buy will depend on your requirement. Based on the following criteria, you can choose the best mobility scooter for yourself.
Adult Scooters Accessories
You can accessorize your scooter with several user-friendly items that will make your ride complete. There are scooter baskets, scooter bags, scooter oxygen tank holders, scooter sunshades and weather covers, and much more. 
Our Best-Selling Mobility Scooters
Frequently Asked Questions
Does Medicare pay for mobility scooters?

Medicare Part B covers power-operated vehicles (scooters), walkers, and wheelchairs as durable medical equipment (DME). Medicare helps cover DME if:

The doctor treating your condition submits a written order stating that you have a medical need for a wheelchair or scooter for use in your home.
You have a health condition that causes significant difficulty moving around in your home
You're unable to do activities of daily living (like bathing, dressing, getting in or out of a bed or chair, or using the bathroom) even with the help of a cane, crutch, or walker
You're able to safely operate and get on and off the wheelchair or scooter, or have someone with you who is always available to help you safely use the device
The doctor treating you for the condition that requires a wheelchair or scooter, and the supplier, both accept Medicare
Your doctor or supplier has visited your home and verified that you can use the equipment within your home (for example, it's not too big to fit through doorways in your home or blocked by floor surfaces or things in its path)

You pay 20% of the Medicare-approved amount after you pay your Part B deductible for the year. Medicare pays the other 80%.

For more details, you can visit this link - Medicare's Wheelchair & Scooter Benefit

Who can benefit from using an adult mobility scooter?

Adult mobility scooters are beneficial for individuals who have difficulty walking or have limited mobility due to age, disability, or health conditions. They can provide increased independence and allow people to travel longer distances with ease.

What are the main features to consider when choosing an adult electric mobility scooter?

Some important features to consider include weight capacity, range (how far the scooter can travel on a single battery charge), top speed, maneuverability (turning radius), stability, comfort (such as seat padding and adjustability), portability (if it needs to be transported frequently), and the type of terrain the scooter is suitable for (indoor, outdoor, or both).

How long do I need to charge my adult electric scooter?

The charging time for an adult mobility scooter can vary depending on several factors, including the battery capacity, the state of charge of the battery, and the type of charger being used. On average, it can take anywhere from 6 to 8 hours to fully charge the battery of a mobility scooter.
Where to Buy Electric Mobility Scooters for Adults Online?
Health Products For You offers an extensive range of mobility scooters for adults that can provide great solutions for people struggling with everyday activities. Regain independence with our products from top-selling manufacturers like Pride Mobility, Golden Technologies, Drive Medical, and many more. Shop now!
Research Papers and Articles
FAQ's
Frequently asked questions
No. Mobility Scooters have an automatic electronic braking system that prevents the unit from rolling forwards or backwards on a slope without user intervention.
It is not recommended to fully empty the battery before recharging. In the event that the battery is completely discharged, it will take from 7 to 10 hours to fully recharge.
Do not ride if rain is heavy and may possibly soak the control panel. Ride very slowly through puddles. Do not ride if snow is deeper than 1/2 the height of your wheels.
The scooter is a "pedestrian mobility device", and is intended for use on sidewalks. You should only ride on the roadway when no sidewalk is available. Always ride with care.
The battery life depends on how often you use your scooter, but you could be looking at around 18 months to two years. When a scooter battery is fading, you'll notice its capacity will reduce and you won't be able to travel the distances you once did on a single charge.
You must contact the airline in advance and provide details about your scooter to obtain prior permission. They're likely to ask you for the make, model, weight, size and whether it folds or dismantles. You'll also need to know what type of battery your scooter has, and its weight.
No, a mobility scooter does not need licencing.