Clean it up!! Tracheostomy Maintenance

The saying is: "cleanliness is next to godliness", but the truth is proper cleaning and maintenance of your Trach Supplies can extend their life and save you money in the long run. By properly maintaining the different parts of a tracheostomy system, not only can you extend its longevity, but it also allows your equipment to function properly. Proper maintenance and care also include care for the tissue around the tracheostomy to minimize the risk of irritation and infection.
Care Plan
A little preventive maintenance can go a long way to heading off potential problems down the road. This includes equipment as well as any sensitive tissue that comes in contact with it. The stoma (opening in the neck/trachea) is an area that can become irritated by the trach tube rubbing or by secretions. Daily care (more if needed) of this area is critical to preventing infection and skin breakdown, according to tracheostomy.com. They also point out that children with new trachs or on a ventilator may need care more frequently. Children often respond better if there is a schedule or routine, so try to keep to a time frame to do this preventive maintenance. Tracheostomy.com lists several items that may be needed in order to have a successful care plan:
Sterile cotton swabs (Q-tips)
Two sterile cups (clean paper cups are acceptable)
By consulting your physician or nurse, you can come up with a plan to care for your child's tracheostomy and stoma, not to mention keeping equipment working efficiently.
Cleaning vs. Disposable
Depending upon your child's trach needs, there may be an inner cannula that not only can be cleaned but replaced. These disposable inner cannulas (DIC) are often in older children or teenagers. According to tracheostomy.com, these inner cannulas should be replaced daily while the reusable cannulas should be cleaned 1-3 times a day. As a rule, you should not leave the inner cannula out for more than 15 minutes. Often, cost and convenience are major contributors in deciding whether or not to use a disposable or reusable inner cannula. The Covidien Kendall Standard Trach Care Tray with CSR Wrap includes everything you need for your care plan. With three solution basins and a 6 in. trach tube brush, it offers the finest in convenience and infection control for quick and efficient tracheostomy care procedures. One option that is available with gloves or not is the CareFusion AirLife Complete Tracheostomy Cleaning Tray. It comes with a cleaning brush, three cotton-tipped applicators, and 32 in. of twill tape amongst other supplies, and is available with or without gloves. For those on a budget, the Dynarex Tracheostomy Care Kit includes a dual compartment tray, trachea tube brush, and pipe cleaners as well as precut gauze tracheostomy dressing and 4 x 4 gauze sponges. This allows for frequent cleaning and maintenance of your child's tracheostomy equipment. A sterile, latex-free option is the Amsino AMSure Tracheostomy Clean And Care Trays. It provides infection control and convenience to the user while providing everything you need to clean and maintain a trach and stoma.
For those that choose the disposable route, the Medline Guedel Disposable Oral Airways are conveniently color-coded for size and automatically curve to the contour of the pharynx. Starting at 50 mm (blue) for infants they increase in size to 120 mm (purple) for adults and have rounded tips to reduce trauma to upper airways. The manufacturer Shiley offers a disposable inner cannula for their fenestrated tubes. The Shiley Fenestrated Disposable Inner Cannula is for use in the cuffless and low pressure cuffed tracheostomy tubes. Personal preference will likely determine if you choose to clean or to replace with disposable cannulas.
Keep It Moist and Clean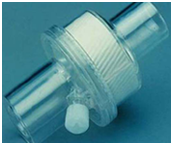 One way to keep a tracheostomy patient comfortable is to use a humidifier for tracheostomy to add moisture to the air being ventilated into a patient's tracheostomy. Adding moisture can keep sensitive tissue from drying out and keep the trach patient comfortable. For instance, the DAR Hygrolife Heat and Moisture Exchanger traps the patient's own moisture, minimizes heat loss, and is perfect for respiratory patients that need a breathing circuit. It should be replaced every 24 hours. The CareFusion AirLife Small Volume Filtered Hygroscopic Condenser Humidifier also uses the patient's exhaled heat and moisture and returns it to the inspired gas. This small, compact humidifier is designed specially to provide bacteriostatic and hygroscopic benefits. This "recirculation" enhances breathing comfort by conditioning, moisturizing, and warming the incoming air. Keeping airborne pathogens away from a tracheostomy can be important. The Atos Medical Provox Micron Heat and Moisture Exchanger is meant to be worn in front of the tracheostomy minimizing the risk of infection, especially for those with a laryngectomy. Its filter minimizes bacteria, viruses, and dust or pollen and is clinically proven to improve the airway climate. To maximize patient comfort, the Hudson RCI Aqua Plus Swivel Disposable Hygroscopic Condenser Humidifier allows 360° of flexibility in patient positioning. These filtered units are disposable, therefore minimizing the risk of bacteria or virus penetration and reducing the risk of cross contamination. For infant tracheostomy patients the CareFusion AirLife Infant Hygroscopic Condenser Humidifier also recaptures exhaled heat and moisture, then returns it to the inspired gas. Designing a care plan and keeping everything clean is important in maintaining the patient's quality of life. Reach out to therapists, your doctor, or your nurse for resources that can help you make it simpler.
Disclaimer: All content found on our website, including images, videos, infographics and text was created solely for informational purposes. Our content should never be used for the purpose of diagnosis or treatment of any medical conditions. Content shared on our websites is not meant to be used as a substitute for advice from a certified medical professional. Reliance on the information provided on our website as a basis for patient treatment is solely at your own risk. We urge all our customers to always consult a physician or a certified medical professional before trying or using a new medical product.