Pediatric Tracheostomy: Caring for Little Ones

The news that your child needs a tracheostomy can be troubling to say the least. We never want to see our children in pain or suffering. So if you're a little bit disconcerted, we're parents and that's normal. While Asclepiades may have gotten credit for doing the first tracheotomy around 100 BC, it became very popular in the 1950s for epidemics of poliomyelitis and later for treatment of tetanus, cardiac surgery, and even for premature infants according to emedicine.medscape.com.
Reasons for a Tracheostomy
Due to medical improvements, the need for pediatric tracheostomies has declined. Since a child's neck is smaller and anatomically different than adults, performing a tracheostomy can be difficult; emedicine.medscape.com reports that the two main indications for a tracheostomy are long-term cardiorespiratory compromise due to chronic ventilatory insufficiency and fixed upper airway obstruction that is unlikely to resolve over a long period of time. Airway problems are a leading cause of a tracheostomy. Hopkinsmedicine.org identifies several airway issues including tumors, vocal cord paralysis, and congenital abnormalities of the airway to name a few. Other maladies they list include a neuromuscular disease compromising chest muscles and the diaphragm, spinal cord injury, or even anaphylaxis (acute serious allergic reaction).
What Will My Baby Need?
Once the initial shock had worn off, the question that needs to be asked is what do I need for my child at home? Before you know what supplies you need to buy, it is important to know all the parts of a tracheostomy. Trach.com identifies six distinctive parts of a tracheostomy:
Faceplate: This is also known as the neck flange and is where the connection is to keep the tube in place. On it, there will be numbers identifying the type and diameter of tube.
Outer Cannula: This is the main tube that is inserted into the trachea. There are two types available; a single cannula tube and a dual cannula tube (which has an inner cannula).
Inner Cannula: This can be removed from it a dual cannula tube for cleaning/replacement to help manage secretions.
Shaft: In adults this is normally 75 mm in length; for pediatrics a shorter shaft would be required.
Cuff: A cuff is used when a patient requires ventilation. They use an inflation line to inflate the cuff and the pilot balloon lets you know if there is air in the cuff.
Obturator: Sometimes called a pilot, this helps guide the tube into the trachea, minimizing damage to the surrounding tissue.
Consulting with your doctor or nurse can help determine what size and diameter your child would need. Below is a diagram from trach.com illustrating the different parts of a tracheostomy system: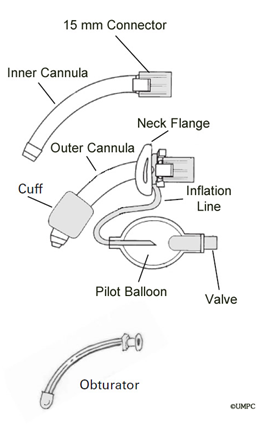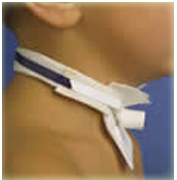 These parts can be specially designed for our pediatric patients. For instance, the Smiths Medical Portex Bivona Uncuffed Pediatric Tracheostomy Tube is made of soft silicone that is flexible in the trachea to maximize patient comfort. Its atraumatic, contoured neck flange is kink resistant while being wire reinforced. For neonatal patients, the Smiths Medical Portex Bivona Aire Cuf Neonatal Tracheostomy Tubes are ideal for short to medium term ventilator support. These provide better control when high PEEP or PEAK pressures are needed. Since our little patients require a little more attention to comfort, the Shiley Pediatric Tracheostomy Tube provides greater comfort and fit for smaller pediatric patients. By bypassing any upper respiratory obstructions, it provides long-term ventilation and secretion management. To facilitate easy insertion, it comes with a rounded tip obturator and is available in both cuffed and non-cuffed versions. Comfort is a priority with the Shiley Reusable Low Pressure Cuffed Tracheostomy Tube . By using a high quality, compliant material that softens at body temperature, it is perfect for sensitive tissue and is designed to bypass upper respiratory obstructions, provide long-term ventilation, and manage tracheal and bronchial secretions. One specific type of tracheostomy that requires specific equipment is a laryngectomy. An option available to these patients is the Boston Singer Laryngectomy Tube . This flexible silicone tracheostomy tube is designed to maintain the tracheostoma immediately following surgery. Used to prevent tracheostoma stenosis, its unique flange design covers a wider surface keeping tape and holders away from the healing tracheostoma. Another available option for laryngectomy patients is the Graham-Field Jackson Original Model Short Length Laryngectomy Tubes . These tubes are different in that they are made from 440A stainless steel and have no protruding parts to snag on clothing. Its inner tube is held in place by a swiveling lock. Once you have chosen your tube, holding it in place is the next piece of the puzzle. The Pepper Medical Two Piece Pedi-Tie II Pediatric Tracheostomy Tube Holder is made from soft hypoallergenic cotton and is designed to provide secure positioning of the tracheostomy tube. It is latex free, disposable, and easy to adjust for proper fit. One holder that eliminates the need for tape or tying is the Welcon Trach Tube Holder . This comfortable neckband utilizes Velcro fasteners straps to provide quick and easy trach tube stabilization. To allow for a cough reflex it has a stretch segment built-in. The Dale Tracheostomy Tube Holder is available when a multitude of sizes including pediatric up to an 18 inch neck. It provides secure positioning to reduce accidental displacement/dislodgment of the tube while its moisture repellent lining wicks moisture away from the skin, minimizing the chance of skin breakdown. One way to avoid frustration with twill ties is the Marpac Universal Fit Tracheostomy Collars . Available in pediatric sizes up to 12 inches, these latex free two-piece collars limit movement of the tracheostomy tube reducing accidental decannulation. Tracheostomy tubes and holders come in a variety of sizes so they can grow with our little ones if need be. By consulting with your physician you can maximize your child's comfort and allow them to maintain their quality of life.
Disclaimer: All content found on our website, including images, videos, infographics and text were created solely for informational purposes. Our content should never be used for the purpose of diagnosis or treatment of any medical conditions. Content shared on our websites is not meant to be used as a substitute for advice from a certified medical professional. Reliance on the information provided on our website as a basis for patient treatment is solely at your own risk. We urge all our customers to always consult a physician or a certified medical professional before trying or using a new medical product.