All about Heel Pain
By Taikhum Sadiq
How powerful is the heel?
The legs are one of the most important and indispensable part of movement for a person. The advanced functions of the legs and its various parts make us a highly physically evolved species. The legs are built in such a way that they can endure more than 50 tonnes of stress within a very short period of time. The heels are the foundation structures of the legs and activities like running, walking, and jumping rely on the heels. The heels bones and the muscles together form a very strong unit.
What causes problems in the heel?
The heel can endure a lot of stress on a regular basis, but the tenacity of the heel depends from person to person and not everyone can endure a lot of stress on their heel. Many a time excessive stress on the heel can result in severe heel pain. This also affects the ankle and the foot in whole. A sore heel is a major problem associated with excessive work out and stressing out the heel muscles. Inflammation of the heel muscles, tenderness of the tendons, and weakening of the muscles are some of the other problems associated with he heel.
What are the treatment options?
Different problems related to the heel have different ways of treatment for example a bruise usually goes away with minor medication and rest but a problem like plantar fasciitis specific exercises, medication, and the use of heel pads. Items such as heel pads, heel supports, and braces are some of the most common things used by individuals at home during the treatment of heel pain.
What are my options?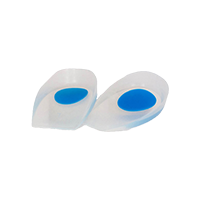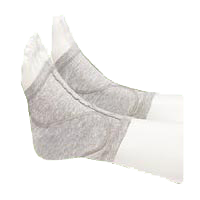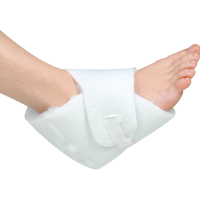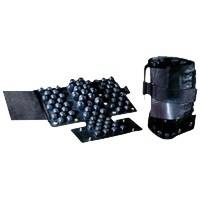 Advanced Orthopaedics Central Heel Support helps in relieving lower extremity fatigue through shock absorption of the heel area. It is designed to relieve pressure on muscles, tendons and joints. The coloured striking areas are softer than surrounding transparent material giving flexible pressure relief.
Alimed Gelbodies Heel and Ankle Protectors combine breathable, stretchy coolband material with trugel, a specially formulated silicone-based gel that provides soothing relief and pressure-relieving skin protection. The gel evenly distributes body weight and will not bottom-out.
DeRoyal Comfo-Eze Heel and Elbow Protector with Straps has resilient polyfiber construction. It features adjustable padded strap that covers top of foot for added patient comfort. Also features hook and loop closure for easy application and adjustment. It is used in decubitus ulcer prevention and skin shearing and/or skin friction. It is not made with natural rubber latex and is non-sterile.
ROHO Heal Pad Cushion offers an adjustable therapeutic environment which aids in the healing of heel and elbow ischemic ulcers. The unique design offers an array of inflatable, multiple height mini air cells, distributes weight and pressures across the contact surface of the patient's problem area helping to maintain blood flow to the wound sight, controlling oedema and facilitating the healing of damaged tissues.
Disclaimer: All content found on our website, including images, videos, infographics and text were created solely for informational purposes. Our content should never be used for the purpose of diagnosis or treatment of any medical conditions. Content shared on our websites is not meant to be used as a substitute for advice from a certified medical professional. Reliance on the information provided on our website as a basis for patient treatment is solely at your own risk. We urge all our customers to always consult a physician or a certified medical professional before trying or using a new medical product.