Healing the Nail

What are ingrown toenails?
Ingrown toenails are a very common nail disease. It is characterized by the nail intruding into the nearby skin and causing pain and inflammation. This can also cause a severe infection of the toe. This is a major problem for people who suffer from diabetes, impaired circulation, or other systematic diseases. Nails can overgrow and penetrate the skin on all toes and fingers but they usually affect the toenails.
What are the symptoms of ingrown toenails?
The most common symptoms are pain in the toenail. It is accompanied by pressure in the toe and high sensitivity to even weight like that of bed sheets. Bumping the toe nail can cause excruciating pain as the nail further penetrates the skin. The skin may even get infected and release pus. One should take care that the wound does not become septic and the infection shouldn't spread.
What are the causes of ingrown toenails?
This problem can be slightly hereditary. But some of the major reasons are improper trimming of the nails, trauma, accidents, or shoe pressure. Even incorrect posture of the foot can result in this problem.
What are the treatment options?
In moderate cases, warm water and salt treatment are the most common. One should soak their foot in a tub of warm water or salt water for a specific period of time. The other option is surgery, but only when the problem has been aggravated. Another common treatment option is the use of nail braces. They work by lifting the sides of the toenail eventually causing the nail to grow flatter in shape. Always consult your doctor or go to a podiatrist for better treatment options.
What are my options?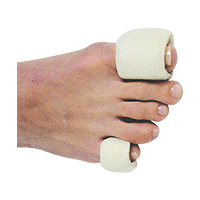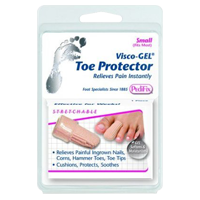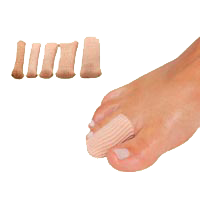 Pedifix Tubular Foam Toe Bandage surround, cushion and protect toes to relieve irritations. These soft, foam tubes instantly cushion and separate toes that rub while reducing pressure and friction. Relieve corns, ingrown nails and other irritations comfortably while wearing almost any type of footwear. Trimmable and are made from fabric-lined foam, these are easily cut and shaped into toe protectors, nail guards, bunion shields and more. Foam compresses for a comfortable shoe fit and are washable and reusable.
Pedifix Visco-Gel Toe Protector relieves corns, ingrown nails, blisters and other toe irritations. This soft fabric cap stretches over entire toe and completely surrounds it with vitamin-enriched gel to absorb pressure and friction while releasing mineral oil to soothe and moisturize skin. No messy adhesives and is trimmable.
Silipos Digital Caps are soft, comfortable, and stretchable fabric cap fully coated with silipos gel. The gel slowly releases a medical grade mineral oil to help soften and moisturize the skin. They are ideal for relieving pressure and friction on the affected toe or finger. This product is washable and reusable.
Disclaimer: All content found on our website, including images, videos, infographics and text were created solely for informational purposes. Our content should never be used for the purpose of diagnosis or treatment of any medical conditions. Content shared on our websites is not meant to be used as a substitute for advice from a certified medical professional. Reliance on the information provided on our website as a basis for patient treatment is solely at your own risk. We urge all our customers to always consult a physician or a certified medical professional before trying or using a new medical product.