Laparoscopic Surgery : Everything You Need To Know

Laparoscopic surgical procedures, also known as minimally invasive surgeries, are very common. It requires about 4 very small incisions, about half inch in size. Because these incisions are small, healing time is improved. Traditional surgery or open surgical procedure typically requires a larger incision to allow visualization of the abdominal cavity. These types of surgeries cut more tissue, requiring a longer healing time. Many types of surgeries can be done laparoscopically.  
How is laparoscopic surgery done? 
Once sedated, most often under general anesthesia, where a tube is placed into the airway for breathing, the abdomen is prepped with an antiseptic cleanser. The first small incision is placed at the umbilicus (belly button). Through this incision, a laparoscope (instrument with a camera and light) is placed into the abdomen. The abdominal cavity is then insufflated with gas (carbon dioxide). This allows room for visualizing the abdominal cavity and the movement of instruments without injuring the organs or tissue.  
What are the advantages of laparoscopic surgery? 
There are many benefits to have a laparoscopic procedure. These include: 
Prior to determining the need for surgery, diagnostic tests are performed based on symptoms. CT scans, MRIs, and Xray, can be done to diagnose the problem. Although in some cases, the health problem may not be evident. The surgeon may recommend a laparoscopy for diagnostic purposes. This means the surgeon will place the laparoscope inside the abdomen to visualize what is going on.  
What type of surgery is done laparoscopically? 
Many surgeries can be done laparoscopically, however not all. The most common is appendectomy and cholecystectomy (gallbladder removal).  
Author Profile: Christine Kijek, Registered Colorectal Nurse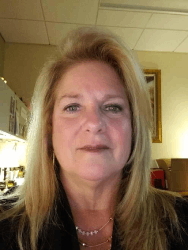 Christine Kijek is a colorectal nurse at Danbury Hospital in Danbury, CT. She has a wealth of knowledge in this field as well as personal experience. HPFY is thrilled that she has been an active participant in the Ostomy Support Group. She has experience working as a coordinator for cancer patients, post-operative care, and home health care for disabled children and adults. And guess what! Christine is also the recipient of the Nurse Exemplar Award. Christine lives in Bethel, CT with her husband Ed. Her children are married and live nearby. She has 4 grandchildren and is known as GiGi. Christine enjoys riding motorcycles and spends many hours gardening. She can often be found onboard a Carnival Cruise ship lounging by the pool.
Disclaimer: All content found on our website, including images, videos, infographics, and text were created solely for informational purposes. Our reviewed content should never be used for the purpose of diagnosis or treatment of any medical conditions. Content shared on our websites is not meant to be used as a substitute for advice from a certified medical professional. Reliance on the information provided on our website as a basis for patient treatment is solely at your own risk. We urge all our customers to always consult a physician or a certified medical professional before trying or using a new medical product.