Lifting the Leg

Strangely enough, a leg lifter is the commonest of technologies one can use in their daily life. It isn't operated by electricity; it doesn't require an extensive instruction manual and works fine with all ages. But what exactly are leg-lifters? Well, in layman's terms, a leg lifter is used to lift a patient's leg into bed or onto another sleeping or sitting area. Leg lifters use the simple pulley mechanism to function. One ties the leg lifter to their specific leg and uses the force of the fore arms to pull their leg into position.
You might be wondering that why is it necessary to use a combination of straps and bands to life my leg? Why can't one directly lift their leg using their arms directly? Well, firstly, it requires greater strength to lift your leg directly. A pulley system reduces the effort required to lift the leg. Secondly, a pulley system makes the movement swift and efficient. It reduces the chances of dropping the leg and probably hurting it.
How do I use a leg lifter?
Using a leg lifter isn't a very difficult task.
First, sit firmly on the bed or couch you intend to lie on. Always be sure that you are comfortably in position before you move forward.
Grip the strap or looping near the top of the leg lifter with the hand on the same side of the body as the affected leg firmly. Slowly lean in the direction of the leg lifter and hook it around the arch of the foot on the affected leg.
Lift the leg with a gentle force using your back muscles to arch and put the leg into position. The force required may vary as to where you intend to place the leg.
Loosen the strap by moving it forward so that there is no strain on the leg anymore.
What are the different kinds of leg lifters to choose from?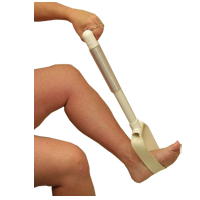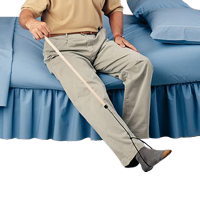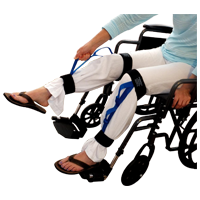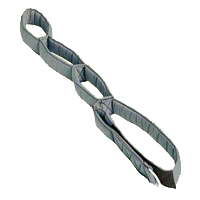 The Kinsman Multi-Use Foot Lifter is ideal for anyone who has difficulties raising or reaching their feet. Its unique design allows use in a shower, around the house or while getting in or out of your automobile. It features a rubber foot strap that conforms to your foot size and non slip grips give firm control.
 
The Sammons Preston T-Bar handle Cinching Leg Lifter has foam-covered handle which provides stability and comfort in grasp. This wooden dowel has an attached plastic cord that cinches around the foot when handle is pulled upward and releases as handle is released. This leg lifter assists in positioning and ease of movement. It is latex free and handle is four inches wide.
 
The Cast Handle Leg Lifter has adjustable 22 inches thigh loop and 16 inches calf loop that fasten with hook and loop closures. This handle is machine washable and latex free. It may also be used with braces.
 
The Sammons Preston Triple 6 inch Loops Resting Leg Lifter features adjustable hook and loop closure to accommodate thigh sizes up to 22 inches. It has three evenly spaced six inch loops for easy, forearm assisted positioning of leg. It is made of durable gray nylon taffeta with heavy-duty stitching. This leg lifter has easy-grasp D-ring and is latex free.
Disclaimer: All content found on our website, including images, videos, infographics and text were created solely for informational purposes. Our content should never be used for the purpose of diagnosis or treatment of any medical conditions. Content shared on our websites is not meant to be used as a substitute for advice from a certified medical professional. Reliance on the information provided on our website as a basis for patient treatment is solely at your own risk. We urge all our customers to always consult a physician or a certified medical professional before trying or using a new medical product.