Hip Surgery
It is reported that in United States, more than 250,000 surgeries for hip replacement are performed every year. The general cause of hip replacement is due to osteoarthritis or other different types of arthritis that causes severe joint damage. The patients have either stopped responding to the traditional method of treatment or it may have progressed to the level where the traditional method is not adequate.
For hip replacement, an artificially created part is replaced with the damaged one. Generally this includes the replacement of hip socket with a plastic cup, femoral head with a metal ball and femur with a metal stem.
HOW HIP KIT HELPS
A Hip Kit contains all essential items that could help in extending the reach of patients. It offers freedom and independence with convenient and easy-to-use daily essentials which make daily living tasks easier, such as bathing, dressing and reaching for high items.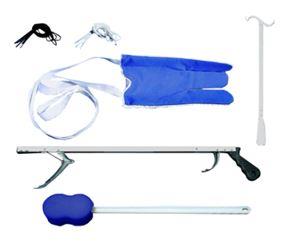 Sock Aid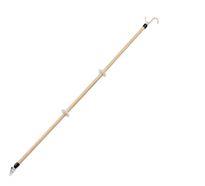 Especially made sock aid is designed to put on the socks without any need of bending over. The flexible part let the socks slip over and 2 long handles let the sock part to the floor. This easy to use aid assists a lot and reduces any kind of pain that could cause due to bending.
Reacher

A Reacher is commonly available in varying lengths that allows the person to reach or pick up objects without extending or bending the body. Holding the handle and operating is very easy and convenient while the other end is designed to latch onto an object.
Dressing Stick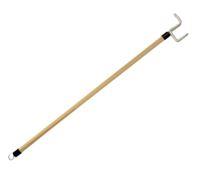 A dressing stick is designed in a way that it stays lightweight. It is a durable thin rod with hooks at each end to assist in getting dressed without the need of bending. The smaller hook can be easily used for zippers while the other hook is used to wear pants and pick cloths from the floor.
There are other accessories like long handle bath sponge, elastic shoe laces that assists in day to day routine. There is wide variety of accessories that could assist in post-hip replacement phase available at rehab-store.com .