Oxygen Concentrators - Introduction | Types | Stationary Vs. Portable | How They Work | FAQ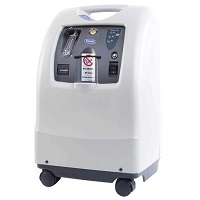 Invacare Perfecto2 V Oxygen Concentrator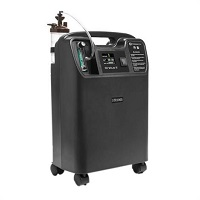 Stratus 5 Oxygen Concentrator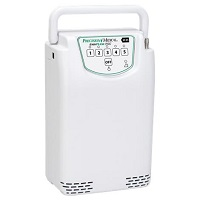 EasyPulse Oxygen Concentrator
What does an Oxygen Concentrator do?
Oxygen concentrator is a device that provides oxygen therapy to patients at substantially higher concentrations than that of ambient air and keeps the level of oxygen in their blood stable. It is a medical equipment that compresses air from around the patient to deliver it to him/her in a purer form. The supply of oxygen is continuous, and unlike an oxygen tank, it can never run out as long as the battery is powered, or the compressor plugged into an electrical outlet. We have a wide range of top-grade stationary and portable O2 concentrators from experienced manufacturers. These devices, also referred to as oxygen generators or oxygen machines, provide a continuous stream of oxygen-enriched air and offer a cost-effective and most preferred at-home or on-the-go treatment.
What are different types of Oxygen Concentrators?
There are 2 Types of Oxygen Concentrators
Portable Oxygen Concentrators
Stationary Oxygen Concentrators
1. Battery Packs for Portable Oxygen Solution
Portable O2 concentrator uses battery packs and allows the oxygen user to stay mobile. It is small in size and lightweight and can be carried around easily. Since the portable oxygen machine runs on a battery, a fully-charged battery will keep the oxygen machine operable outdoors, unlike a stationary unit.
2. Multiple Power Options for Convenient Oxygen Supply On The Go
Apart from portability, an extra benefit is that this type of portable breathing machine also runs on AC and DC power. Users can plug it into an electrical outlet if at home, or in the car it can be charged through a DC power cord, preserving the battery for outdoor use. Multiple power options of AC and DC power and rechargeable battery make it a convenient machine to have at home and outdoors.
3. Varied Usage Options for POC
Portable variety includes pulse dose oxygen concentrators which are smaller in size. Some mobile oxygen units provide a continuous flow of oxygen but these are larger and have built-on wheels. The portable variety has more options in terms of usage – portable type with high flow settings and personal oxygen concentrators less than 5 pounds.
The Inogen One G5 Portable Oxygen Concentratoris designed for 24 x 7 use and conforms to all applicable FAA requirements for POC use onboard an aircraft. The Devilbiss iGo2 Portable Oxygen Concentrator System is designed with revolutionary SmartDose Technology that adjusts oxygen delivery in real-time to fulfill patient demands. Precision Medical EasyPulse Portable Oxygen Concentrator comes with 5 pulse dose settings and EasyPulse POC3 Portable Oxygen Concentrator comes with 3 pulse dose settings.
Stationary oxygen concentrator system provides a continuous flow of oxygen. It can be used 24x7 because to start functioning, it just needs to be plugged into a wall socket. The outflow of oxygen is higher (liter-per-minute) than the portable variety type, and the users can wheel it around the house. Stratus 5 Oxygen Concentrator is one of the best examples of this.
Stationary Oxygen Concentrators Vs. Portable Oxygen Concentrators
| Stationary Oxygen Concentrators |   | Portable Oxygen Concentrators |
| --- | --- | --- |
| Min. 43dBa and Max. 58dBa | | Min. 40dBa and Max. 45dBa |
| Heavier than POC | | Lightweight |
| Confined to in-home use | | Can be carried around on shoulder |
| Supports long usage hours in one go | | Will most likely be damaged if used for long hours |
| Oxygen delivery rate of upto 15 LPM | | Oxygen delivery rate of upto 6 LPM |
| | | |
*Please note that there are exceptions which might disobey the above mentioned specs.*  
How does Oxygen Concentrator work?
An oxygen concentrator takes in the regular air in the room and compresses it using filters and sieve beds to filter out the other gases present, including nitrogen. Concentrated and medical grade oxygen is delivered to the user via a mask or nasal cannula. O2 machines can also be categorized based on their oxygen delivery type:
Types of Oxygen Delivery in O2 Concentrators
Continuous Flow Delivery
Pulse Dose Delivery
1. Continuous Flow Delivery
If delivery is required constantly and at all times, then a continuous flow oxygen concentrator is necessary. The Inogen At Home Portable Unit for Oxygen Therapy provides continuous flow up to 5 liters per minute.
2. Pulse Dose Delivery
Pulse dose oxygen concentrator delivers oxygen in doses or bursts, every time you inhale. It is based on the breathing rate and the amount of oxygen taken in. Pulse dose oxygen concentrators ensure delivery of an appropriate amount of oxygen based on different activity periods – sleep, rest, or daily tasks. For a more sophisticated and efficient solution, pulse dose works better. The Oxlife Independence Portable Oxygen Concentrator is versatile in nature and delivers oxygen in both continuous flow and pulse dose mode.
The selection of an oxygen concentrator will depend on your lifestyle as well – active or at home. Additional considerations include weight, size, power options, and battery life. If you are looking for a quieter oxygen electric machine, then the size will be bigger. Smaller the size, the noisier it is.
Oxygen Concentrator - FAQ
1. What to use with Oxygen Maker Machine?
2. Where can I buy Oxygen Machines Online?
At Health Products For You, we sell a wide range of oxygen concentrators in both portable and stationary variety from Respironics, Invacare, DeVilbiss, Precision Medical, Inogen, Nidek Medical, etc. The Ultra Quiet Five Liter oxygen concentrator from DeVilbiss has a noticeably quiet operation providing 15% typical sound quality improvement. The EasyPulse oxygen concentrator from Precision is a perfect balance between stationary and mobile oxygen generators; it delivers continuous flow and pulse flow in the same unit weighing less than 11.5 pounds. The EverFlo Q Ultra-Quiet oxygen concentrator from Respironics is cost-effective. It produces less heat and needs less electricity to operate.
3. Can anyone buy an O2 Generator Machine?
As per the guidelines received from the U.S. Food & Drug Administration (FDA) Oxygen concentrators need a prescription for buying. Prescriptions can be faxed to 1.203.616.2851 or emailed to [email protected]
4. How to oxygen levels monitored at home?
Oxygen levels are observed with a small device called a pulse oximeter, or pulse ox. Pulse oximeters are normally placed on a fingertip. These machines use beams of light to indirectly measure the o2 level in the blood without drawing a blood sample.
5. Oxygen Concentrator vs. Oxygen Cylinder?
Oxygen Concentrators and Oxygen Cylinders are used to deliver oxygen to the patients, however, the difference lies between their methods of functioning.
The way oxygen is supplied - Oxygen Cylinders have a limited amount of oxygen compressed within and upon being inhaled by the user it gets exhausted. Whereas, an oxygen concentrator filters and generates medical-grade oxygen. It supplies oxygen as long as the battery works. The person can use a single oxygen concentrator for a long span by changing the battery every once in a while.
Oxygen concentrator works like an AC - Unlike oxygen cylinders, concentrators take in air, modify and deliver it in a new form much like an air conditioner. The only difference is that a concentrator purifies the air and makes it suitable for patients with low O2 levels in their blood.
Cylinders are exhaustible - With consumption, an O2 cylinder depletes and requires refill or replacement.
Dosage methods - All oxygen cylinders deliver oxygen on Continuous Flow. But with oxygen concentrators, it tends to vary from device to device since some are more portable and operate on pulse-dose delivery.
6. What are the safety concerns when using oxygen?
Do not use the oxygen concentrator or an oxygen product near an open flame or while smoking.
Place the o2 generator in an open space to decrease the chances of device failure from overheating.
Do not block any chimneys on the concentrator since it may affect device performance.
Regularly check your machine for any alarms to make sure you are getting enough oxygen.
7. Which is the Best Oxygen Concentrator?
More Information on O2 Machine
Win The War Against Covid-19!
With rising cases of Covid patients in the second wave of Corona, make sure you do not hold back on absolute precaution and care for yourself and your loved ones. HealthProductsForYou provide a range of Covid Supplies required to defeat the virus -