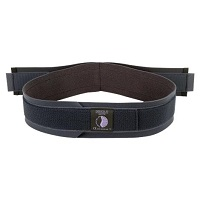 Serola Sacroiliac Belt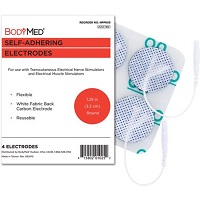 BodyMed Self Adhering Electrodes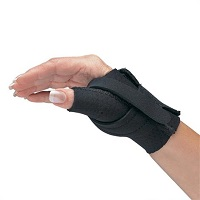 Comfort Cool Thumb Splint
Improve and restore your physical fitness, mobility and co-ordination through high quality rehabilitation products from top brands in the field. These items target all problem areas of the body - from head to foot and from sports injuries to cardiac rehab/recovery to help regain normal functionality. We offer compression stockings, electrotherapy and pivotal therapy products, rehab and exercise items, magnet therapy, paraffin therapy and much more. Compression stockings and lymphedema products bring down swelling and improve blood circulation. Hot and cold therapy supplies help relieve painful joints and provide ultimate comfort to users. Orthopedic rehabilitation aids like splints, support belts, abdominal binders, etc. provide support to the injured limbs and help in the faster recovery. Aquatic rehab therapy involves therapeutic use of water to maintain physical fitness.
In our Rehabilitation and Therapy store, we have a huge range of physical therapy products that cater to all rehab needs and are easy for use at home. You are sure to find the product that fits your needs and be assured of quality at a low price. These rehab supplies and physiotherapy devices are designed for your well-being allowing you to be fit and independent. They are from top-selling manufacturers like BSN Medical, Lymphedivas, North Coast Medical, Breg Incorporated, etc.
Compression Stockings
Compression stockings are used to bring down swelling in the legs and provide relief from symptoms of edema due to poor blood circulation. The gradient pressure design of the socks provides most pressure at the ankle decreasing upwards towards the waist. This improves blood circulation and brings down the swelling.
How to choose your Compression Stocking?
Choose your stockings as per the compression level, socks design and size. The compression level will depend on your condition. Our range starts from 8-15 mmHg and goes up to 40-50 mmHg. There are compression socks, knee high/knee socks, crew socks/calf socks, support socks, anklets/ankle socks and sport socks. Types include compression stockings, pantyhose and anti-embolism stockings. In toe style, too, we have a choice between closed-toe, open-toe and full foot. Our stockings are durable and long-lasting since they are made of quality fabric like nylon, spandex, lycra, wool, tactel, cotton, plastic, polyester and more.
Lymphedema Products
Lymphedema management is easy through our supplies of lymphedema products like lymphedema compression garments, lymphedema gloves, gauntlets and arm sleeves, lymphedema pumps and lymphedema pads. These are designed to provide compression treatments and overcome venous insufficiency.
Orthopedics
Orthopedic rehabilitation products help in recovery from an injury or surgery providing relief and protection. We have products developed for all parts of the body including the foot, lower limb, upper limb, back, abdomen and the neck. Traction sets offer relief from pain due to pinched nerves, dislocation and minor fractures. Our cervical orthopedics section has cervical support pillows, cervical roll pillows and cervical collars from leading brands like Hudson, Mabis, Medline, Drive Medical, BodySport, HealthSmart, etc.
Also available are support belts, trochanter belts, AFO like Swedish AFO, clavicle support, abdominal binders, posture correctors, hernia support, lumbar support, etc, in our back and abdomen section. Check out orthopedic casts, orthopedic pillows, cushions and wedges, lower limb orthotics, upper limb orthotics and limb elevators from top manufacturers.
Paraffin Therapy and Hot / Cold Therapy
Paraffin therapy and hot and cold therapy products enhance wellness and give relief from painful joints and muscles, etc. Heated mitts and booties plus wax beads as well as hot packs, cold packs (like FlexiKold Reusable Gel Cold Packs) and hot or cold therapy systems are effective in treating these problems. Our hot and cold therapy line of products is comprehensive and includes popular items from Polar Products, Breg Inc, Chattanooga, Medline and Core Products.
Electrotherapy
Electrotherapy has a number of health benefits. It helps reduce nerve pain, strengthens muscles and relaxes muscle spasms. Electrotherapy involves sending mild electrical impulses to the problem area. It blocks the nerve pain signals bringing down the pain. Electric current is passed through electrodes in TENS (which stimulate the nerve tissue) and EMS (which work on the muscles) units. We offer quality TENS and EMS units from Biomedical Life Systems, Complete Medical Supplies, Bilt-Rite Mastex, Drive Medical, etc. Check out our section with different types of disposable and reusable electrodes including neuro-stimulation electrodes, PigTail electrodes, sponge electrodes, cloth electrodes, foam electrodes, electrodes for pediatric use and pencil electrode sets. We also carry ultrasound therapy items, electrotherapy skin preparation products as well as defibrillators.
Pivotal Therapy
Pivotal therapy involves treating areas of the spine through massage, acupressure, etc. Rehab products to help with this are migraine headache massage sticks, acupressure balls and thoracic pivots which work on the muscles of the spine and skull.
Massage Therapy
Get relief from muscular pain, stiff back and symptoms of stress through our massage therapy products. Benefits of massage therapy are multiple. They sooth, relax and promote general wellness and physical rehabilitation. There are massage chairs, electric massagers, manual massagers, massage tables, massage creams/lotions, foot massagers and massage cushions. Top brands like IMAK, Palmer, Prossage, Franklin, Norco. TheraBand and Prelim are featured here.
Light Therapy
Relieve joint and muscle pain through different types of healing light therapy lamps. Check out the anti-aging systems using powerful infrared LED light therapy. We carry all types of light healing therapy systems to provide SAD light therapy, UV light therapy, red light therapy, light box therapy, acne light therapy and light therapy for depression.
Aromatherapy
Enhance your health and well-being with our supplies for aromatherapy. Use aromatherapy essential oils, aromatherapy scent inhalers, incense sticks and aromatherapy oil diffusers from Amrita Aromatherapy, Aura Cacia, Natural Patches of Vermont, Frontier Natural Products, Bon Vital, etc.
Aquatic Rehab Therapy
Aquatic rehab therapy is a good way of staying fit and there are products to help with that. Aquabike is an effective means of achieving mental and physical fitness mixing fun with business, a good example being the Aqua Creek pool exercise bike. Other than this there are aquatic bar bells, aquatic aqua steps, aquatic fitness paddles, aquatic belt floats, aquatic bar floats, aquatic ankle weights and more.
Magnetic Therapy
Using magnets for pain management is an alternative practice and involve use of "therapeutic" magnets. We carry a range of magnets for healing pain and for providing support to certain areas of the body. Electromagnetic therapy is provided through magnetic mitts, magnetic therapy bracelets, magnetic lumbar supports, magnetic elbow supports, magnetic knee supports and more.
Hydrotherapy
Hydrotherapy, also referred to as water therapy, involves the use of water to treat pain and stress. Hydrotherapy equipment include hydrotherapy chairs and facial sauna products. Unwind with our products and enjoy the benefits of hydrotherapy. Physiological effects of hydrotherapy include relief from pain, detoxification, improved blood circulation and sleep as well as a boost to the immune system.
Fitness Products
Our physical therapy exercise equipment are designed to provide complete cardio fitness and improve flexibility making your body resistant to wear and tear. Our range of fitness products include exercise physio balls, exercise mats, stretching and flexibility equipment, yoga and pilates products, jump ropes and agility items and rebounders.
Prosthetics
High quality compression prosthetic shrinkers for amputees are designed to make their life comfortable and easy. These provide gradient compression which helps in maintaining the shape of the stump and keep swelling under control after amputation. Different compression levels are available.
Pain Relief
Choose from a huge range of pain relief products targeting back pain, lower back pain, knee pain, neck pain and more. We have products for fast arthritis pain relief, frozen shoulder pain relief, surgical pain relief, relief from insect bites and muscle and joint pain stiffness with our fast acting gel, sprays and tablets.
Erectile Dysfunction
Treat impotence and restore penile health with our vacuum therapy which is non-invasive, easy to use and provides long-term satisfaction. Additionally, try out the lubricated jelly for impotence or erectile dysfunction. It helps with vaginal dryness, lubricates condoms and is gynecologist-recommended.
Splinting
Find your apparatus for strapping, splinting and padding from quality brands like VELCRO, Rolyan, ice Stretch, Omega, Base 2 and more. We carry splints for thumb, wrist, forearm, finger and hand. There are splint assortment kits, hand splint kits, cast boots and finger injury kits plus more.

Other Useful Links: