Best Selling Breast Forms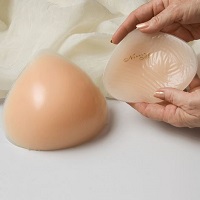 Nearly Me 250 So-Soft Triangle Equalizer Breast Form
Lowest Price Breast Forms
ABC 951 Puff Post Surgical Form
Best Reviewed Breast Forms
Nearly Me 395 Extra Lightweight Semi-Full Triangle Breast Form
What are breast forms?
Post-mastectomy, one or both of the breasts of a woman need to be removed as a part of the treatment, and it gives an asymmetrical shape to the body. To feel confident and wholesome post-mastectomy, we bring you a wide range of mastectomy breast forms. They can help restore the natural shape and symmetry of the breast, making women feel more confident and comfortable with their appearance. These products are made of soft and fine quality fabric, which protects the sensitive skin of the user and gives her a sense of security. Mastectomy forms are designed to provide a realistic look and feel soft and natural on the skin. They come in different sizes, styles, and materials and may have an artificial nipple or a particular shape. We carry products from the best manufacturers that are available in breast forms.
Benefits of using breast prosthesis
Using breast forms after mastectomy can offer several benefits to women, including:
It can help women feel more confident and comfortable with their appearance by restoring their natural breast shape and symmetry, helping them feel more like themselves
It can help balance posture, improving body alignment and reducing strain on the neck and back
It can enhance clothing options, allowing women to wear clothing that they may not have been comfortable wearing before
Come in different shapes, sizes, materials, and attachment options, allowing women to choose the breast form that best suits their individual needs and preferences
How to use breast forms?
Breast forms can be worn externally or attached to the skin. External prostheses are worn inside mastectomy bras with pockets. The attachable mastectomy prosthesis is for those who do not want to wear pocketed bras and use a prosthetic that is in a self-adhesive form and can be attached to the skin with adhesives. Camisole prosthesis is suitable for those who have just had a mastectomy and the scars have not yet healed. There is no bra involved, and the mastectomy forms are slipped inside a soft camisole that is gentle on the body. If you are wearing a top with a built-in shelf bra, you do not even need a mastectomy bra. 
The best mastectomy forms are those that can be worn in all situations, resist shifting and imbalance, feel natural, and be as close as possible in appearance and feel to the biological breast. Buying such a breast form is not difficult with the wide range that we bring from the best manufacturers.
How to select the right breast inserts after mastectomy?
After mastectomy, choosing the right mastectomy breast forms becomes important. An important criterion for this is the material. Generally, mastectomy forms are made of silicone gel, latex, rubber, and other gel substances. Silicone breast forms are popular and comfortable, but they are expensive. An example of a good silicone breast prosthesis is the ABC 1072 Classic Triangle Breast Form, which is 30 percent lighter than standard silicone for less strain on the shoulder and back.  
A more cost-effective alternative is the non-silicone breast prosthesis such as those made of foam or fiberfill. These have the shape of a natural breast but not the weight, droop, or feel. Foam/fiberfill mastectomy forms can be worn post-mastectomy or during workouts and keep you cool in hot weather. A fine example of a foam breast form is the Trulife Tri-Leisure weighted type, which is a soft and lightweight product best for temporary wear during leisure activities. 

We have different types of breast forms available, such as silicone mastectomy forms, non-silicone/lightweight forms, cooler forms, dark tone forms, swim/exercise forms, attachable forms, foam/fiberfill forms, and leisure forms.
Breast Prosthesis Buying guide
Several other factors are involved when considering which mastectomy breast form to buy. These include:
Design

There are two designs available – symmetrical and asymmetrical. Symmetrical breast forms are ideal for those with uneven breasts who need a more symmetrical shape. The asymmetrical breast form is available for both left and right fitting. The Nearly Me 420 mastectomy prosthesis is made of soft, polyurethane foam. It fits both the right and left sides, while the Essential 2A 353 from Amoena is an asymmetrical 100% silicone breast form.

Fitting

Mastectomy bra inserts are available in three fits - average fit, full fit, and shallow fit. Average-fit breast prostheses are for those with an average profile and looking for minimum coverage and lower necklines. Full-fit mastectomy forms are bought by those who need full-cup fitting. The Anita Care silicone prosthesis is a full breast form with full weight compensation after mastectomy. Shallow-fit mastectomy breast forms are for those with a semi-full profile and provide a high transition to the upper chest wall where less volume is required.

Shape

You can choose from three breast form shapes - triangular, heart shape, oval shape, and teardrop forms. The triangular breast form is meant for all surgery and body types. It fits well in post-surgical camisoles and pocketed bras. The ABC 1072 Classic Triangle Breast Form is a good example of a triangle-shaped breast form designed to prevent irritating crossovers. Oval-shaped mastectomy bra inserts can be positioned anywhere on the breast and rotated and positioned as needed. Heart-shaped breast forms provide a natural outline to keep the wearer feeling comfortable and confident. Teardrop breast forms give a versatile shape that tapers at the top extension and allows several positioning options.

Weight

The weight of the mastectomy forms is another crucial factor to consider. If you plan to wear them for extended periods, lightweight breast prostheses are the best option. Heavier breast forms can cause discomfort and strain on your back and shoulders.
What size mastectomy prosthesis should I get?
The most important thing about wearing a mastectomy form is getting the size right. Comfort and wear time extension will depend on this factor. So before buying bra inserts after mastectomy, check our sizing guide for different manufacturers.
Where to buy breast forms?
HPFY offers a wide range of mastectomy breast prostheses hand-picked to make sure you receive top-quality products manufactured with precision by best-in-class makers that ensure you forget the discomforts associated with wearing breast forms. Our top products include a line of mastectomy forms such as ABC Forms, Amoena Breast Forms, Anita Breast Forms, Classique Breast Forms, and Nearly Me Breast Forms, to name a few. 
Articles and research on breast forms for mastectomy patients