What Everyone Should Know About Resistance Band Color
Resistance exercise bands come in a number of colors and it's not just for decoration. These physical therapy bands use these different colors in order to let the user know the force of the resistance that band offers. As your therapy/exercise program progresses, you can use these colors in order to increase resistance to gain strength or rehab from an injury in a safe manner. So what do these colors actually tell you? We here at HPFY can help you.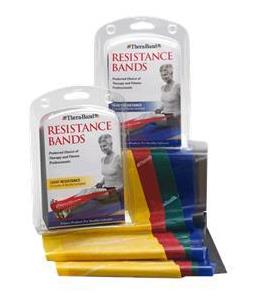 How do Resistance Bands work?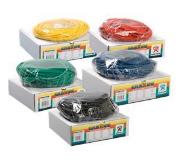 As with any other piece of exercise equipment, resistance bands can be personalized for your specific exercise/rehab program. Just like dumbbells or other weighted exercise equipment, different bands offer the user a variety of resistance levels. Where resistance bands differ from dumbbells is in the resistance itself. During muscle contraction and expansion, these bands provide positive resistance so you reap the benefits through the entire range of motion. As with any exercise, you should consult your physician/therapist first before beginning any exercise routine. Also, start small and work your way to higher resistance levels. The colors of these resistance bands let you know which ones are easier while you progress to more difficult resistance.
Resistance Exercise Band Colors
The colors of the resistance band rainbow are not just decorative. As you progress through your exercise/rehab, you will want to increase the resistance level of your exercise bands. The different colors of these exercise bands correlate to different resistance levels. One tip: do not advance to a higher resistance without the okay from your doctor or therapist if you are recovering from an injury. This can lead to you over stressing an injured area and possibly re-injuring yourself. Also, you should always stop exercising if you feel pain. The different colors of resistance bands may vary slightly from manufacturer to manufacturer. For instance Thera-Band uses the following color codes in order to indicate the resistance of their resistance bands:
Thera-Band Resistance Band Colors
| | | |
| --- | --- | --- |
| Color | Resistance | Muscle Group |
| Yellow | Thin/Easy/X-Light | Shoulders and Shines |
| Red | Light | Biceps and Triceps |
| Green | Medium | Legs,Chest & Back |
| Blue | Heavy | Legs,Chest & Back |
| Black | X-Heavy | Legs,Chest & Back |
*Great for working out with someone else
Another brand that provides users with a slightly wider range of resistances for their users is CanDo and you can see where their options are minutely different.
CanDo Resistance Band Colors
| | |
| --- | --- |
| Color | Resistance |
| Tan | XX-Light |
| Yellow | X-Light |
| Red | Light |
| Green | Medium |
| Blue | Heavy |
| Black | X-Heavy |
| Silver | XX-Heavy |
| Gold | XXX-Heavy |
As you can see, different colors equal different resistance levels in exercise bands. There are similarities between manufacturers and some subtle differences, so be sure you check with each manufacturer to determine which color is appropriate for your level of exercise/rehab. Some bands are available in predetermined lengths, while others may come in long rolls that can be cut to any length or size in order to accommodate any exercise or user size. Find your color and get exercising!!
Disclaimer: All content found on our website, including images, videos, infographics and text were created solely for informational purposes. Our content should never be used for the purpose of diagnosis or treatment of any medical conditions. Content shared on our websites is not meant to be used as a substitute for advice from a certified medical professional. Reliance on the information provided on our website as a basis for patient treatment is solely at your own risk. We urge all our customers to always consult a physician or a certified medical professional before trying or using a new medical product.