Commode Transfer Benches – Bathing the Easy Way
By Taikhum Sadiq
As the world is advancing, we are striving to make the world safer in as many ways as possible. We use seatbelts while driving, we have airbags in our cars, and today there are even antilock brake-equipped cars. We wear helmets when bicycling, skiing, and rollerblading. We install fencing around pools and many people install pool alarms to know if someone falls in.
If we're truly concerned to this level about safety, why do so many of us forget about safety in the bathroom? Coming to terms with this we realize that we don't want our bathrooms to look like a hospital bathroom. But in the end, safety comes first. Many people have problems while moving around in the bathroom. People suffering from leg problems find it difficult to move from the toilet to the bathtub. This situation calls for the invention called the transfer bench.
Commode transfer benches are basically transfer benches that include the facility of an added commode. The patient can easily shift from the toilet to the bathing area and the commode adds a convenient option for patients who find it difficult to move. They come in a wide range of adjustable backrests; padded commodes, easy shift options, and are slip resistant.
The Carex Deluxe Vinyl Padded Bathtub Transfer Bench is padded and provides a comfortable bath. The padded seat and back are made of thick vinyl material which resists tearing. The seat height is adjustable and the convenient side rail provides support for easy transfer. The Duralife DuraGlide Reclining Bath and Commode Transfer System with Seat are designed to be used with any standard tub size and they eliminate the need for heavy lifting or awkward transfers. They fit over a standard commode for toileting and when attached to tub rails, the seat rolls into the tub for bathing purposes.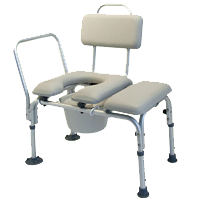 The Graham-Field Lumex Padded Commode Transfer Bench assists those who have difficulties while stepping over bathtub walls and the opening of the commode affords the user greater comfort and better access for cleaning. The Columbia Versa Bath Shower and Commode Transfer System is multi-functional, light-weight system used as a roll-in shower chair, bedside commode, over-the toilet commode, bath slider or transfer chair. This multi functional transfer system reduces the need for multiple pieces of equipment and also can be used independently.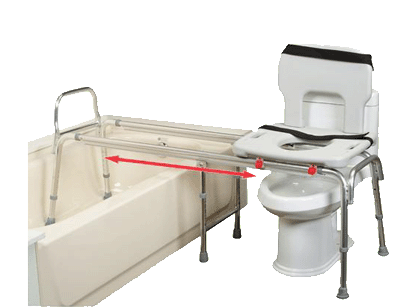 The Snap N Save Sliding Transfer Bench with Cut-Out Molded Swivel Seat and Back makes it easier for the patient to get in and out of the bathtub safely. The swivel seat turns 360 degree and locks every 90 degree. This allows easier entry to and exit from bench. The Eagle Health Toilet to Tub Sliding Transfer Bench is also equipment that makes it the entry and exit into the bathtub easy. Just sit on the seat and slide into the tub. The seat and backrest have a non-slip textured finish which can be reversed for either right or left hand tub placement.